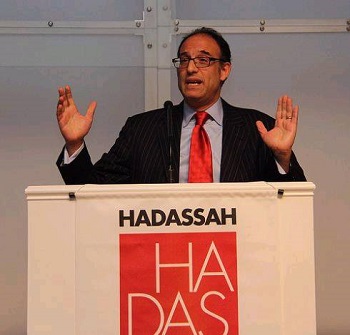 "I am alive today because the doctors at Hadassah are not constrained by the traditional paradigm of medical practice or typical treatment modalities," says Michael Weiss, who was recently a very ill patient at the Hadassah Medical Center.
Mr. Weiss, an intellectual property attorney with Cahill Gordon & Reindel in New York, had been visiting Israel with his family and a tour group over the Passover holiday. He is no stranger to medical treatment and pharmaceuticals, since this area is one of his legal specialties. On the last day of the holiday, he suddenly experienced a sharp pain in his ear and began to feel woozy. The hotel physician was called and diagnosed an ear infection. Despite the antibiotic prescribed for him, that night, Mr. Weiss found himself in worse pain. Again, the hotel physician was called and this time, he recommended that Mr. Weiss go to the hospital to have the fluid drained from his ear.
By the time he reached the Hadassah Medical Center, Mr. Weiss said, he was "violently ill." With the fluid removed, Mr. Weiss still had hopes of flying home as scheduled. When he went to the emergency room to get some pain medication, however, he realized the pain was escalating. Neurologist Dr. Asaf Honig examined him and, although other than an intense headache Mr. Weiss was not exhibiting typical symptoms of bacterial meningitis such as fever and confusion, Dr. Honig suspected he might have contracted bacterial meningitis as a complication of his ear infection. Consequently, among the diagnostic tests he ordered was a spinal tap, an analysis of Mr. Weiss' cerebrospinal fluid, which is a definitive means to diagnose meningitis. In another hospital, Dr. Weiss relates, there would be an excellent chance he would not have been tested for bacterial meningitis, "let alone diagnosed and treated quickly enough to save his life and prevent a lifetime of adverse health effects."
When bacterial meningitis is left undiagnosed, Mr. Weiss brings out, it is fatal 90 percent of the time! As many medical experts told Mr. Weiss when he returned home, "This is an example of a miracle diagnosis. You are lucky to be alive!" For Mr. Weiss, however, "the miracle is the miracle of Hadassah itself." As he explains: "Not only does Hadassah generate cutting-edge research, but also its physicians, themselves, are continually at the cutting-edge of knowledge."
Hadassah's specialists treated Mr. Weiss with intravenous antibiotics and steroids and informed him that he could not get on a plane for 14 days. Mr. Weiss spent the next two weeks at Hadassah, recovering. "It is the mindset of Hadassah that makes the difference," he comments.
During his remarks at the Jewish Museum gala, Mr. Weiss noted that the then upcoming Jewish festival of Succot is also referred to as Z'man Simchateinu, the holiday of rejoicing. He expressed gratitude that, because of the doctors at Hadassah, he was able to enjoy the holiday with his family and thus had an extra reason to be rejoicing this year. When the Holy Temple was in existence, Mr. Weiss also pointed out, the Rabbis teach that during the festival of Succot, 70 sacrifices were made for the benefit of all the nations of the world. "This fits perfectly with Hadassah's mission of enhancing the health of people worldwide," Mr. Weiss said. This mission, he added, "is echoed in the vision of Hadassah's founder, Henrietta Szold, who stated that one of the core values of the organization was not only 'the healing of the daughters of our people', but also the healing of the nations.