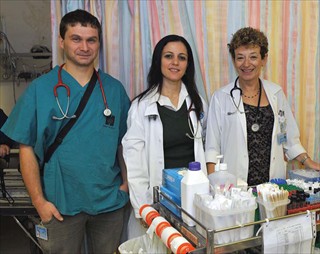 When a four-year-old, blue and critically ill, was rushed into the pediatric emergency room at Hadassah Hospital Mount Scopus, Dr. David Rekhtman, head of the ER, and his team deciphered that the child had somehow consumed methadone.
In the nick of time, they gave him the proper antidote. "He would have died within minutes if we had missed it," Dr. Rekhtman noted.
Oddly, while they were treating this four-year old, an 11-month-old baby who had consumed marijuana was brought in to the ER. He, too, was saved by Dr. Rekhtman and his team, which has a reputation for solving unusual problems.
More than 30,000 children are treated each year in Hadassah's pediatric emergency rooms, on Mount Scopus and in Ein Kerem.