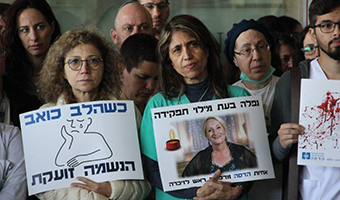 Our thoughts and prayers are with the family of Tova Kararo, the Israeli nurse who was set on fire at a Tel Aviv-area clinic by an elderly mentally ill man.
"I am deeply horrified by the tragic murder of Tova Kararo. As an organization strongly committed to nursing and nurses since our founding, Hadassah joins the global community in honoring her life. May her memory be for a blessing," said Ellen Hershkin, national president of Hadassah, the Women's Zionist Organization of America, from Hadassah Headquarters in New York.
"We are shocked by the violence," said Nurse Akram Said-Ahmad at a Wednesday tribute event at Hadassah Ein Kerem.
"In the name of all the nurses here at Hadassah, I express our shock and distress," Hadassah Ein Kerem Director Professor Yoram Weiss said at the tribute.