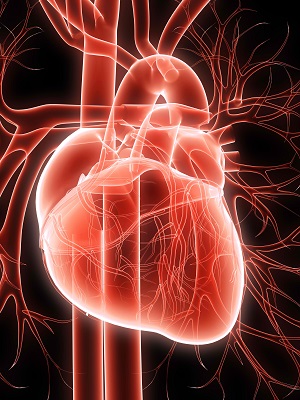 A resident of a rural settlement called Dishon, established by Libyan Jewish immigrants in 1953, Eyal Amar, age 47, was rather young to suffer a devastating heart attack. Nevertheless, he did, but thanks to the courage and skill of the specialists at the Hadassah Medical Center's Heart Institute and their complex protocol to redesign his heavily damaged heart, Eyal is able to walk and breathe again.
"This might sound trivial," he says, "but believe me, for me, each breath is a miracle.  I am so grateful for this gift of a second chance at life."
Mr. Amar's ordeal began last August, when he felt a strong pain in his chest. A traveling salesman and father of three, he decided to wait until the morning to seek medical attention–an error which resulted in his needing to go by intensive care ambulance to his local hospital emergency room, where they diagnosed enormous muscle damage.
Mr. Amar underwent emergency heart catheterization. Despite remaining in the hospital for weeks, when he came home, he still wasn't able to lie down without struggling to breathe. Over the next sleepless, painful months, he consulted specialists who confirmed that he had a single option: a heart transplant– for which he'd have to wait months or maybe even years. Mr. Amar's uncle had been treated at Hadassah 20 years earlier and insisted they make the four-hour trip to Jerusalem to consult with his doctor, Prof. Chaim Lotan, head of Hadassah's Heart Institute.
"We immediately hospitalized him," relates Prof. Lotan, "and only after testing him did we learn that he also had a dangerous aneurism in his heart. Prof. Lotan explains that they examined all possible options because with Mr. Amar being such a young man, a heart transplant would impact negatively on his quality of life and that is if–"and it's a big if–he lived long enough to get a heart."
Hadassah's multidisciplinary specialists put their heads together. Prof. Oz Shapira, renowned cardiothoracic surgeon and Director of Hadassah's Department of Cardiothoracic Surgery, suggested a daring plan of redesigning the shape of Mr. Amar's heart, including rebuilding the left ventricle. With this plan, the aneurism would be blocked off with a tissue graft, the ventricle would be made smaller, and the valve would be repaired, while also preserving the muscle and its tissue.
The complicated surgery proved successful and, today, Mr. Amar's prognosis is excellent. Home with his wife and family for the holidays, he and his loved ones are all counting their blessings, planning for a future that seemed not to exist just a short time ago.
It is the season of celebrating miracles, but also of remembering that miracles don't happen in a vacuum!