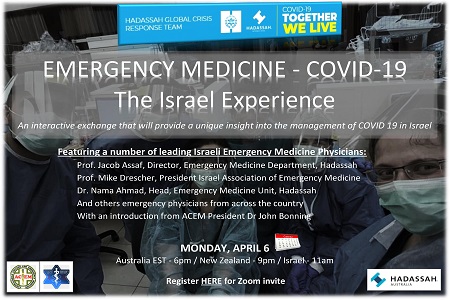 In synch with the goals of its coronavirus campaign, "COVID-19: Together We Live," Hadassah International's Global Response Team and Hadassah Australia jointly provided a webinar on Monday, April 6, to share Israel's protocols for battling the disease. Attended by over 260 medical professionals from 13 countries, the webinar featured emergency medicine (ER) physicians on the front lines of caring for COVID-19 patients in Israel. It was moderated by George Braitberg, professor of emergency medicine at the Royal Melbourne (Australia) Hospital and head of emergency medicine at the Center for Integrated Critical Care Medicine at the University of Melbourne Medical School.
Setting the stage for this global exchange, Dr. John Bonning, New Zealand-based president of the Australian College of Emergency Medicine, noted that "this international collaboration is phenomenal, as we deal with this once-in-a-lifetime event." He emphasized the importance of learning from one another about successful protocols and ways to keep both patients and health care teams safe.
Prof. Jacob Assaf, director of the Hadassah Medical Center's department of emergency medicine, delineated the three goals he and his ER team seek to achieve:
providing the same high-quality care to "regular" emergency department patients that they have always given
providing high-quality care to COVID-19 patients
ensuring the safety of patients and staff as they meet patient needs
Prof. Assaf reported, "Hadassah found in its testing of patients that whether the patient showed mild or more severe symptoms typical of COVID-19, the percentage of those who tested positive was the same—14 percent." Given that finding, Prof. Assaf said, Hadassah now takes the same precautions with all patients suspected of having the coronavirus.
Dr. Ahmed Naama, head of Hadassah's ER Unit, described how his ER has been refigured for the COVID-19 crisis. For example, Hadassah now has a "clean zone" with an area for gynecology patients. Low-risk patients who may have a fever and a runny nose are kept separate from those suspected of having COVID-19.
To avoid overexposure to the coronavirus and constant stress for his health care teams, Prof. Assaf explained that the teams rotate every two hours and do not work every day. In addition, there is no overlap of teams, so that if someone in a team is found to have COVID-19, and that team needs to be isolated, the other teams are still available to work.
Dr. Michael J. Drescher, chair of the Israel Association of Emergency Medicine and chief of the ER department at Beilison Hospital at the Rabin Medical Center reported that in Israel, all 29 ERs have separate "corona-suspect areas." Most hospitals have a separate unit for patients suspected of having COVID-19.
Hadassah Hospital Ein Kerem was fortunate to be able to create a separate COVID-19 hospital in its Round Building, which is currently being renovated. Patients at Hadassah and other hospitals who are only mildly ill are sent to designated hotels.
In terms of testing, Dr. Drescher related Israel's emergency medical service, Magen David Adom, is performing COVID-19 tests in patients' homes if they are quarantined. In addition, Magen David Adom has opened no-fee testing facilities, freeing up ERs to take care of patients.
Dr. Drescher offered some caveats as hospitals become so heavily focused on COVID-19 patients. Other departments within the hospital, he said, need to prepare to care for patients with other illnesses, such as heart attacks, stroke, and fractures, when they also have coronavirus symptoms. "We need to address the issue of a delay in treating serious diseases due to 'viro-phobia.' "
Dr. Avi Ironi, director of the emergency medicine department at Israel's Sheba Medical Center, related that he had to manage his ER from a make-shift headquarters in his home when he had to quarantine himself after finding out that two of his ER doctors from Italy had tested positive for COVID-19. As a result, he related, in one day, they had 23 out of 28 physicians and 50 out of 90 nurses in isolation. They had to build new teams from back-up health workers the hospital management gathered for him. As at Hadassah, he said, there was no crossover among the health care teams in the ER. Dr. Ironi also shared slides of his ER tents, located outside the hospital, which are being used to take patients' vital signs and perform such diagnostic tests as EKGs.
The importance of having standardized protocols regarding the use of personal protective equipment (PPE) was emphasized by Dr. Drescher. While he acknowledged that "people often want to do more than is required and, therefore, there is a natural tendency for things to spiral," he said, "we need to stick to evidence-based policies and to save the more sophisticated high-level PPE for when it is needed."