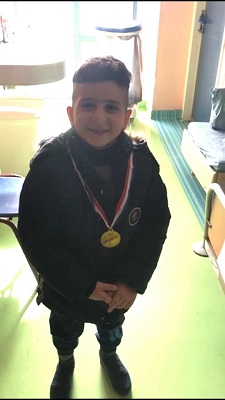 When normally energetic Mohammed, 6, complained of stomach pains, he was brought to Hadassah Hospital Ein Kerem.
On initial examination, the medical staff realized Mohammed was actually suffering from an inflammation of the heart muscle—myocarditis. They sent him immediately to the Pediatric Intensive Care Unit (PICU).
"Mohammed arrived at the unit conscious," says unit head nurse Sonya Sharabi. "He was chatting with the intake nurse when his pulse stopped and he collapsed. He was in cardiac arrest. We began resuscitation and a heart-lung team connected him to an ECMO machine, which he remained on for several days."
The machine pumps and oxygenates a patient's blood outside the body, allowing the heart and lungs to rest.
"He collapsed into my arms," recalls nurse Nour Dabash. "He wavered between life and death."
After five days of intensive care, Mohammed made a full recovery.
PICU Director Dr. Uri Pollak says myocarditis can happen to anyone. "The key is rapid diagnosis. To my delight, Mohammed just left the hospital, with a marked improvement in heart function," says Dr. Pollak. "We will, of course, continue observation at the Hadassah Pediatric Cardiology Clinic."
"Because Mohammed was such a hero, he received our pediatric unit's special hero's medal," says Sharabi. "It's amazing that he healed without any brain damage. It's success stories like this that give our nurses the motivation they need to do their work."