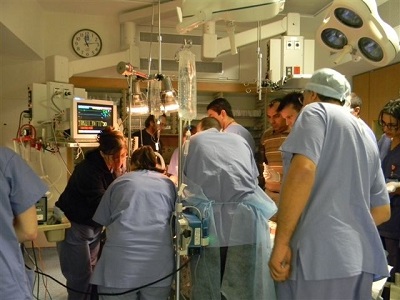 This last week has brought a burst of terror attacks. There have been seven terror attacks in the last three days. At Hadassah's hospitals, we are back to treating both the terror survivors and the terrorists.
Sunday, Sept 18, 2016
At 6 AM, the security cameras revealed a suspicious person walking towards the city of Efrat.
The local security alerted the Israel Defense Forces who began patrolling the area. An officer and two other soldiers were near some shrubbery, when the terrorist who was hiding in the bushes jumped forward and attacked the officer, stabbing him in the chest. The other soldiers shot and neutralized the terrorist.
Both the victim and the terrorist were brought to Hadassah Ein Kerem's Swartz Center for Emergency Medicine with its shock trauma center.
The officer, whose name is Eli Stern, 30, is stable and in moderate condition.
The terrorist, Baha a-Din Muhammad Khalil, around 30, is in the intensive care unit at Hadassah Ein Kerem.
Monday, Sept 19, 2016
This morning, police officer Yaakov Kurdo, 47, was stabbed at Herod's Gate ("Shaar Haprachim") in the Old City of Jerusalem. The terrorist followed two officers from the Damascus Gate, and stabbed them. Officer Kurdo managed to open fire in the midst of the attack, shooting and neutralizing the terrorist. Officer Kurdo was stabbed in the neck from behind. According to Head of Surgery Prof. Alon Pikarsky the knife went through his neck without touching vital blood vessels. He was  treated in the Swartz Center for Emergency Medicine and will undergo additional tests. Officer Kurdo is the survivor of an earlier stabbing near the Damascus Gate a year ago.
The terrorist who attacked him was shot in his legs and head and is in severe condition, intubated and on a breathing machine, at Hadassah's Mount Scopus campus.