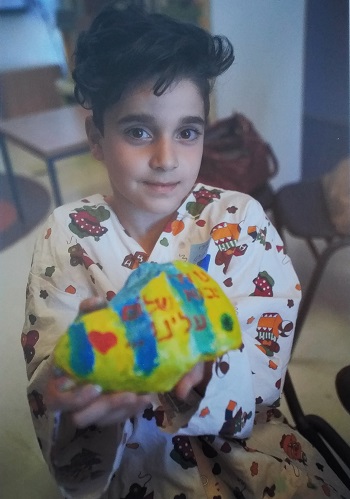 Stones have long been instruments of conflict in Jerusalem, where Hadassah's Mount Scopus Hospital is located. But Hadassah created a new use for stones with its Stones for Peace Project, asking the children in the hospital school to paint stones to express their belief in peace.  A photo of a young child holding her "stone of peace" was one of five winners in a photo contest, sponsored by USAID-ASHA (United States Agency for International Development -American Schools and Hospitals Abroad).
When conflict outside the Hadassah Hospital campus escalated, Hadassah launched this project to empower children to choose peaceful means of resolving conflicts. The children are taught an educational unit on conflict resolution before they begin painting.  After the stones are painted to the satisfaction of the little artists, they are transferred to the fountain in the Healing Garden donated by Hadassah Australia, located outside the Center for Children with Chronic Diseases.
Long-term patient Mohammed Abdeen, age 18, whose recent photo exhibit was displayed at Hadassah-Mount Scopus, took the winning photo.
USAID grants Hadassah an average of one million dollars each year for equipment.
The photo above won the competition sponsored by USAID-ASHA, and was displayed at the USAID/ASHA Annual Partners Conference in the US.