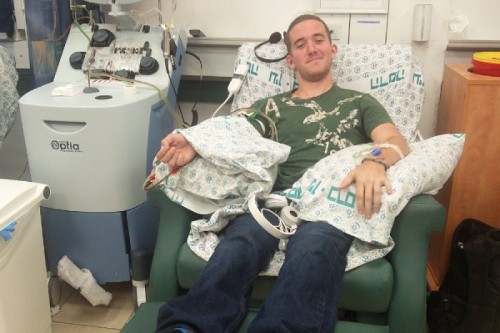 Dov Guggenheim was diagnosed with Multiple Sclerosis (MS) in 2015. He explains, "My life has drastically changed. But I've gone from depressed to optimistic, paralyzed to athletic, and most importantly, hopeless to hopeful". Now he is running in the Jerusalem Marathon to raise money for Hadassah's MS program.
Throughout, Dov has been determined to keep a positive outlook because he trusted his doctors and the rapidly developing research on medical treatments for MS.
That feeling of confidence peaked when, together with some of the wonderful people at the MS Center at Hadassah Hospital, where he had transferred for treatment, he established the MS running team, and registered for the  March 2017 Jerusalem Marathon. The team dedicated themselves to raising money and awareness for the groundbreaking research being done by the Hadassah Center in developing a stem cell cure for MS (and hopefully ALS as well).
He ran in the 2017 marathon with one leg barely functioning, due to another MS attack, and celebrated back in the ER. That was, to date, his last attack.
In June, 2017 he was hospitalized once again. This time for treatment with a relatively new MS drug that has had good results in preventing attacks and even reducing brain and spine lesions. He will have to repeat the in-hospital treatment in another few months. But he has been lucky enough to regain control of his life during the past year.
He has decided to run in the Jerusalem Marathon again this year — and organize another dedicated running team to raise money for the breakthrough treatment being conducted at Hadassah that may cure MS, or at least result in large-scale regression. Hopefully, if all goes well, he may not need this treatment. But thousands of MS and ALS sufferers do.
He aspires to the team's shared fundraising goal of NIS 100,000, or approximately $28,000, to reach their goal and be one step closer to eliminating a debilitating disease from this earth.
Dov explains "Perhaps then, by next year, or the year after, we will run in celebration, because the cure will have been found".
To read Dov's original blog, please go to http://www.aish.com/sp/so/Bombshell-You-Have-MS.html?s=app&mobile=yes