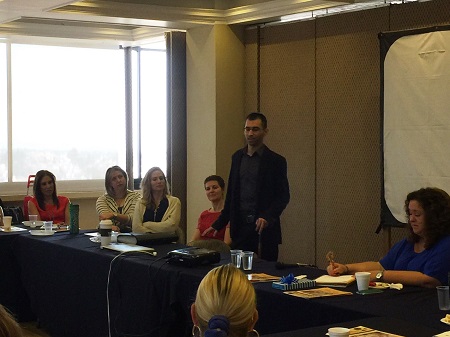 Dvir, a terrorist attack survivor and a longtime patient of Hadassah recently traveled all the way to Mexico to share how Hadassah saved his life.
Dvir Musai proudly stood in front of different audiences in Mexico sharing his inspirational story, one that speaks about Hadassah's special way of caring, and the unique relationship that develops between patients and medical staff.
Seriously injured in a terrorist attack 14 years ago, life has been an ongoing challenge for Dvir. His life was changed forever when, as a child, he stepped on a landmine planted by a terrorist, and was taken to the Hadassah Hospital.
Since then he has undergone more than 30 surgeries. He told his audiences in Mexico: "The treatments at Hadassah not only helped me survive, but basically gave me a chance to live a life."
At one event after another in Mexico City, he told people how he almost lost his legs after the explosion, and how Hadassah's doctors tried and succeeded in saving them using experimental procedures.
Dvir's love story with Mexicans started early this year when a group of women from WIZO Mexico came on a visit to Hadassah Ein Kerem. During the visit, Dvir, who after two years of volunteering, now works at Hadassah's Heritage Center, shared his story and brought all the women in the group to tears.
Moved by Dvir's story, Linda Samra, a leading Jewish volunteer in Mexico, decided to organize an event to support Hadassah and invited Dvir to come to Mexico City.
The event took place at the home of Linda and Meny Samra and was a highlight of the visit. Funds collected at the event were earmarked for the Pediatric Intensive Care Unit (PICU) at Hadassah Ein Kerem, a partnership project with Keren Hayesod and the Monte Sinai Community in Mexico.
During the event, Dvir was interviewed by one of the most important Mexican Jewish newspapers, "Enlace Judio". Follow the link for the interview at http://www.enlacejudio.com/2016/04/07/hadassah-pone-de-pie-a-un-joven-israeli-destrozado-por-una-mina/
He spoke also at a gathering of the Women Leaders Federation of Mexico, a meeting that opened new opportunities for supporting Hadassah. In addition, he spoke in front of High-school children and at other community groups in Mexico.
"Hadassah is my second home. It has given me so much — it gave me a life to live. I met my wife in Hadassah and my son was born there. The minimum I can do is to give back to Hadassah by sharing my story, and in that way, get people to support Hadassah", said Dvir.
See http://hadassahinternational.org/dvirs-story/ for more details about Dvir's story.