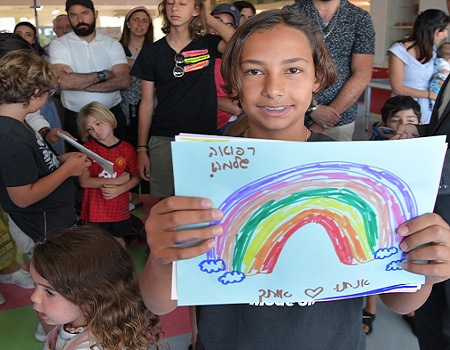 The many children in Moises Jafif's Mexican extended family will remember their visit to Hadassah Hospital Ein Kerem for the rest of their lives. It was the kind of experience they will relate to their own children and grandchildren in years to come. During the visit, the children all learned the value of giving, experiencing for themselves the personal satisfaction of doing something that brings joy and happiness to others, in this case to children who are ill.
The visit to Hadassah was arranged as part of the celebration of the Bar Mitzvah of Jak, one of Moises Jafif's sons. While the adults in the family were being shown around the hospital, the children spent their time drawing pictures to give to children being treated in the pediatric departments in the Charlotte R. Bloomberg Mother and Child Center at Hadassah Ein Kerem.
They then had the opportunity to see where the children are being cared for, and to personally hand over the pictures they had drawn to a nurse in the department. They also gave her the toys and other gifts they had brought with them for the sick children.
Their pride and joy can be seen in these pictures.
Find out more about the visit of Moises Jafif's Family to Hadassah Medical Center in Ein Kerem at the following link.
Main photo above: The Bar Mitzvah Boy's rainbow brings the message "Wishing you a full recovery. We love you."