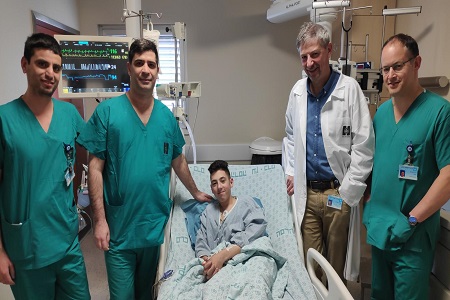 Heart problems are relatively rare in teenagers, but such problems do occur.
Wael Mahisan, age 14, was number one on the list of Israelis waiting for a heart transplant, but time had run out. His heart was stopping every three minutes.
"We feared we were losing our beloved son," says his father, Hamudi Mahisan.
Wael's was suffering from ventricular tachycardia (VT), a heart rhythm disorder caused by abnormally fast electrical signals in the lower chambers of the heart. Hadassah electrophysiology director Prof. David Luria explains, "Wael was undergoing what we call a VT storm. He was having cardiac arrests every three minutes."
With the family's consent, Prof. Luria and his colleagues performed a daring and complex ventricular tachycardia ablation to eliminate the troubled part of the heart by freezing it. Two days later, "Wael went from a boy who 'died' every few minutes to a boy who was sitting up and eating falafel," says Prof. Luria.
Wael's parents wept with joy. "We'll never forget that day," relates Mahisan. "Suddenly, an army of doctors was fighting to save him. We were surrounded by angels."
Wael is no longer number one on the transplant list. He's not even on the list. The heart he was born with is beating just fine.