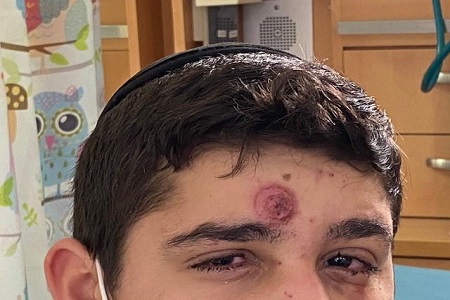 This article was translated and excerpted from the February 11 issue of Israel's newspaper Kol Ha'ir.
Around the time of the Jewish holiday of Purim, teens often get hold of fireworks sold "under the radar." Ezra, age 16, and his 17-year-old brother were among them. Ezra got too close to one with a short fuse, and it exploded in his face. Despite foreign particles and ash lodging in his eyes, the multidisciplinary medical team at Hadassah Hospital Ein Kerem was able to save Ezra's sight. It was Ezra's good fortune that the explosion missed his cornea.
"This is the first time that I have touched fireworks, but I had seen dozens of friends playing with fireworks, and nothing happened to them," Ezra said. When he lit one of the fireworks, he saw that the fuse was very short, the flame was very large and it was taking time to ignite. So Ezra got closer to see what was wrong. "Suddenly," he recalled, "the whole fuse lit, and the firework exploded right in my face before I could get away. It was a matter of seconds."
Ezra could hardly open his eyes. He could feel the particles in them, and he knew his face was burned. Very frightened, he ran to wash his face in a nearby synagogue, but his face just continued to burn, so he ran home. "I told my parents what happened," he said. "The truth is that my parents told me and my brothers more than a few times not to get near fireworks, and my father discussed this with us not long ago because Purim was approaching. And he emphasized how dangerous it was. Unfortunately, I didn't listen."
As soon as Ezra got home after his injury, his father recalled, "I understood immediately that he had to go to the hospital. We were afraid he would lose his sight. And there was the burn on his forehead." An ambulance quickly brought Ezra to Hadassah's emergency room.
At Hadassah, Ezra's father said, "we met angels—an emergency room doctor, an eye doctor, and a plastic surgeon. Immediately, they enveloped us and took care of Ezra as if he were their own son."
Hadassah ophthalmologist Dr. Nadav Levinger, who treated Ezra when he arrived at the pediatric ER, commented, "I told Ezra that about two years ago during Purim when I was on duty, a four-year-old boy was admitted. He was injured by fireworks and lost an eye."
Ezra was lucky. As he, his father, and his doctors said, things could have ended very differently.
"I ask all children," said Ezra, "to stay away from fireworks. They could have destroyed my whole life. Don't say, 'this won't happen to me.' It happened to me. I thank all those who took care of me and saved my eyes."