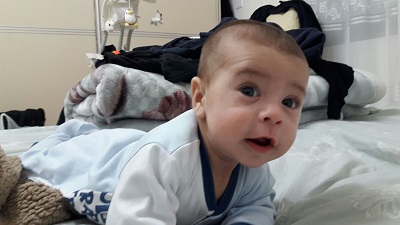 The knowledge that four-month-old Husam urgently needed a bone marrow transplant to save his life brought out tens of thousands of community members from the Druze village of Issifiya and neighboring areas to see if their bone marrow would be a match.
This unprecedented, large-scale bone marrow campaign was conducted in the Druze villages of the Galilee and the Golan Heights, establishing, for the first time, a Druze data base within the Bone Marrow Registry at the Hadassah Medical Organization. The campaign, led by Ofra Elkouby, Director of Hadassah's Bone Marrow Registry, was carried out with full cooperation of Mufid Mar'i, Chair of the forum comprising the heads of the Druze local councils.
"This operation," commented Ms. Elkouby, "was a demonstration of unity and support for the Druze people, and not just in the Druze sector."
Baby Husam's grandfather was the first Druze officer in Israel's National Defense Forces.
The Bone Marrow Registry at Hadassah is the second largest in Israel. The samples in its data base come from the general public and are used to locate donors for patients both in Israel and abroad who require bone marrow transplants.
See the video about the Hadassah Bone Marrow Registry Event for the Druze community here (courtesy of Barbara Sofer): https://youtu.be/PiGFNf0FNSE