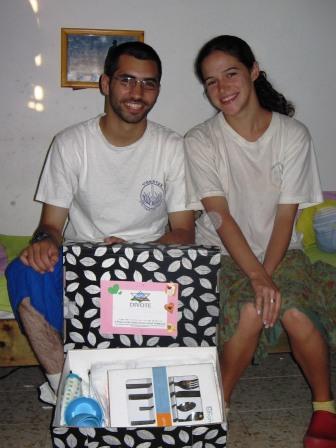 Dvir Mussai, a victim of terrorism at the age of 13 when he stepped on a land mine, celebrated his wedding recently, after many years of reconstructive surgery.
During Dvir's long recovery at the Hadassah Medical Center, his mother, Hanna Mussai, was always at his bedside.  She was asked by an American television crew, that was covering the Intifada, whether they could put Dvir's story on the air.  Hanna agreed if she could have copies of the broadcasts so that the video footage would allow her to mark the stages of her son's recovery.
Hannah used the videotapes to hearten her son.  If his motivation wavered during the recovery process, she would show him old footage to remind him how far he had come.  One by one, his medical problems were addressed—from internal injuries to shattered bones, to severe burns.  About 20 operations and 5 years later, Dvir insisted on doing Army service along with his classmates.  He became an instructor on a base that trains soldiers for anti-terrorist warfare.
Dvir met his bride, Orly Caro, through the One Family Organization, which sponsors activities for terror survivors and their families.  Orly was spending her National Service with One Family, helping to arrange and facilitate the activities.
At their wedding ceremony, Hadassah Surgeon Alon Pikarsky, who had spent hundreds of hours in the operating room reconstructing Dvir's body, was given the honor of reciting one of the seven  blessings for the bride and groom.