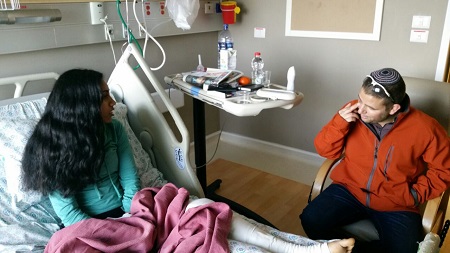 The condition of all four of the soldiers still hospitalized from the January 8 terror attack in Jerusalem is improving at Hadassah's Ein Kerem hospital.  Several have undergone surgery by Hadassah's team of trauma orthopedists after the driver of the flatbed truck rammed them at high speed and then backed over them.
"We are sadly experienced in these terror injuries," said Prof. Rami Mosheiff, an international expert on orthopedic trauma and former Chairperson of AOTrauma, the European trauma association.  Seventy percent of trauma from terrorism requires orthopedic intervention. Prof. Mosheiff is often consulted by experts abroad on how best to treat those who have been injured by bombs and vehicles.
Among the many who have visited the soldiers is Shuki Gilboa, who earlier this year lost an eye while struggling with the terrorist who murdered 13-year old Hallel Yafe Ariel in her bed in Hebron. Liron, 23, an officer at the training base where the soldiers were stationed, said she was encouraged to meet Gilboa. Said Gilboa,"I come with mixed feelings: sadness for what others will have to overcome, and happiness that I can give back some of the warmth and encouragement that was showered on me when I was a patient at Hadassah."
In photo:  Liron, 23  and Shuki Gilboa.