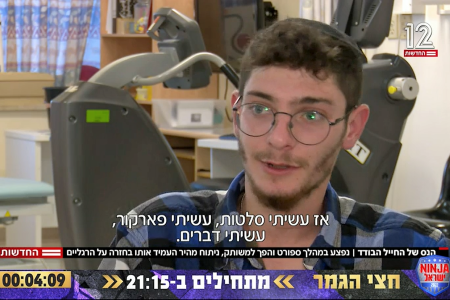 Excerpted and translated from a February 8, 2022, story on Israeli national TV station N12
While performing complex summersaults and jumps, Yehuda Makover, a lone soldier on vacation, suffered a spinal injury that paralyzed all his limbs. Against all odds, Hadassah Medical Organization specialists succeeded in restoring his ability to walk.
Yehuda, age 21, had been serving in the Israeli army as a driver on the Lebanese border. The evening of his injury, he had been delighted to get a breather after a long stint without seeing his friends.
"We were finally able to meet. We waited a really long time to see each other," he says. "As usual, I started doing all kinds of somersaults in the air. I always jump and do things like that. My friends knew of my craziness and weren't surprised. I did a twist and then another and, suddenly and inexplicably, I fell. I collapsed on my back and couldn't move."
Yehuda's friends were shocked and understood this was a serious injury. A moment prior, Yehuda was bouncing through the air, and now he was lying on the ground, unable to move his limbs.
"I heard them saying 'Don't move him,' and calling for an ambulance," Yehuda relates. "I don't remember much about the ambulance taking me away, but I do remember the loss of control over my body. Everything just stopped. I couldn't use my legs or arms, and it was a real struggle to open my eyes. My body took such a blow that it was entirely paralyzed."
Dr. Josh Schroeder, a senior spine surgeon in Hadassah Ein Kerem's Orthopedics Department, was at the hospital to receive Yehuda.
"As soon as the young man was brought to Hadassah, we performed a CT scan and an MRI," recalls Dr. Schroeder. "The imaging showed the dislocation of a cervical vertebra with severe pressure on the spinal cord. The big fear was that he would remain paralyzed if we didn't operate within a couple of hours."
Dr. Schroeder continues, "We rushed him to the operating room. It was obvious that every minute we delayed could jeopardize his future. We brought together the necessary teams and mobilized quickly. Everyone understood the severity of the situation."
Yehuda recalls the rapid movement surrounding him. "All the staff ran with my bed from the imaging area to the operating room. Dr. Schroeder was there the whole time calming me. Suddenly I'd gone from being a strong man to someone disabled," he says.
In surgery, the doctors managed to return the vertebra to its natural position and to extract the spinal cord, which was crushed between two vertebrae. Yehuda's situation improved after the vertebra was restored to its correct position, but there was still much work to do if Yehuda was to walk again.
Hadassah's specialists decided to complete Yehuda's treatment with technological aids that significantly improved his condition. Then Yehuda was transferred to the Rehabilitation Department at Hadassah Hospital Mount Scopus.
"I could stand on my own," recalls Yehuda. "But that wasn't enough."
"After several weeks of tough, intensive work with occupational therapists, physical therapists, and other rehabilitation specialists, we saw great improvement," Dr. Schroeder reports. "Today, Yehuda is walking independently. All his systems are back to normal and, most important, he is independent once again. Throughout this process, Yehuda has been strong and determined, with a joy of life and a smile. May they be there forever."
Main picture caption: Yehuda Makover on the Israeli national TV station N12 (screenshot)