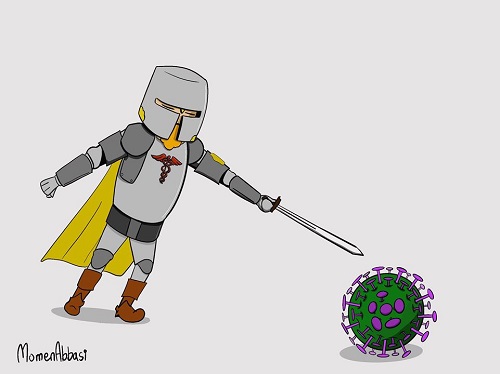 After a long shift tending to the sick at Hadassah Hospital Mount Scopus, Dr. Momen Abbasi, age 29, returns home and turns to his latest creation, a cartoon of Little Red Riding Hood staying at home, rather than risk contracting the coronavirus or infecting her grandmama.
"I use my drawings to spruce up what are often dull medical PowerPoint presentations," says Dr. Abbasi from his home in the Beit Tzafafa neighborhood of Jerusalem. "They are  useful also in explaining an upcoming medical procedure to children and adults, so they know precisely what's going to happen."
From an early age, Dr. Abbasi was undecided between his passion for art and his desire to become a doctor. At Hadassah Hospital, he's found a home for both his passions.
Dr. Abbasi grew up in Silwan, a hillside Arab neighborhood near Jerusalem's Old City. His father is the managing director of Al-Quds newspaper, and his mother is a chemistry teacher. Dr. Abbasi, who always loved playing video games, was fascinated by the animations as he moved his avatars around colorful digital worlds.
"Though I never studied animation, I started drawing in sixth grade," Dr. Abbasi relates. "Using programs like Photoshop and Flash, I gradually learned how to build characters."
All three of Dr. Abbasi's older siblings went into medicine or dentistry. Dr. Abbasi studied medicine in Jordan, returning in 2015 to work at Hadassah as a resident in internal medicine, with a view to specializing in nephrology. He is now an attending physician in internal medicine at Hadassah Mount Scopus.
"My first corona-related drawing—a medical knight fighting the epidemic—was a 'hat-tip' to the medical teams in Hubei, China," Dr. Abbasi relates. When the coronavirus hit Israel,  he directed his drawings to Israelis, advising the public as to best practices to stay safe.
Once the corona crisis is behind us, Dr. Abbasi hopes to broaden his artistic work to help Hadassah. "I love this hospital," he says. "Hadassah Mount Scopus is like one big family."
Dr. Abbasi's vision is to use his artwork to train Hadassah medical students by creating flashcards, for example, "to make nephrology study a little less dry."  In addition, he wants to create more drawings for patients. "You can see that it helps put them at ease," he says.
See more at From The Grapevine.