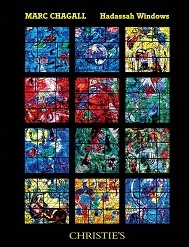 The Chagall Project / Christie's Fine Auction House: Two iconic names in art are now joining with Hadassah to celebrate its Centennial year by helping to complete the Sarah Wetsman Davidson Hospital Tower, the most ambitious project Hadassah has ever undertaken. This global collaboration for art is the first in Hadassah's 100-year history.
Fifty years ago, Marc Chagall presented a gift to the people of Jerusalem, twelve stained glass windows, representing the twelve tribes of ancient Israel. These windows adorn the Abbell synagogue, a focal point of the Hadassah University Medical Center's Ein Kerem campus. Today, fifty years later, we are re-establishing the strong connection between art and healing at Hadassah, by emulating Marc Chagall's generous gift.
Today, twelve generous patrons of the arts will be able to join their names with a Chagall masterpiece, by sponsoring one of the windows in the Abbell synagogue.
In addition, Christie's will accept works of art and fine jewelry from Hadassah supporters throughout the world, to be placed at international auctions. Once the art is bought, the contributor can donate the proceeds to Hadassah.
Fifty years after Chagall's historic contribution, Hadassah is celebrating its centennial by creating a remarkable new gift for the people of Jerusalem and beyond, the Sarah Wetsman Davidson Hospital Tower. All proceeds from this art initiative will support this new inpatient facility–a 19-story, state-of-the-art hospital, where all the people of Jerusalem and throughout Israel will come for cutting-edge treatment, therapies, and cures.
All who participate in this project will leave a lasting legacy in Jerusalem by helping to complete the Sarah Wetsman Davidson Tower and to promote healing and peace for the people of Jerusalem.
In the words of Marc Chagall: "In our life there is a single color, as on an artist's palette, which provides the meaning of life and art. It is the color of Love."
To learn more, contact:
Ellen Frick Delman,
Global Marketing Chair of the Chagall Project | Hadassah Switzerland President
T: +41.79.459.9096 | F: +41.44.915.1822 | ellen.frick-delman@bluewin.ch
hadassahinternational.org | yhadassah.org
facebook.com/hadassahinternational
Hadassah Chagall Windows reproduced with kind permission of the Comité Marc Chagall.
© Windows by Marc Chagall created jointly with Charles Marq/ADAGP.
CHAGALL ® and MARC CHAGALL ® are registered trademarks owned by the Comité Marc Chagall