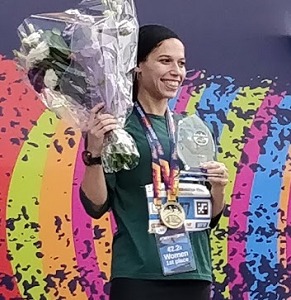 New Jersey-born Bracha "Beatie" Deutsch, who lives in the ultra-religious town of Beit Shemesh, decided to take up running when she was 25 and the mother of four. By age 31, she became Israel's marathon and half-marathon champion.
Beatie, who runs in a long skirt, long-sleeved shirt, and a headscarf, ran the Tiberias marathon when she was seven months pregnant with her fifth child. She came to be ranked among the top 80 runners in the world.
All was great until she fractured her shinbone.
The physical therapy team at Hadassah Hospital Mount Scopus' Department of Physical Medicine and Rehabilitation came to the rescue with their anti-gravity treadmill. Initially invented for astronaut training, the treadmill surrounds patients with a pressurized air chamber that reduces pressure from their body weight, thus enabling them to restore and build muscle strength, range of motion, and balance. Thanks to this treadmill, Beattie can keep training for the Tokyo Olympics.
Photo source: Wikipedia / Photo caption: Deutsch winning the 2019 Tiberias Marathon