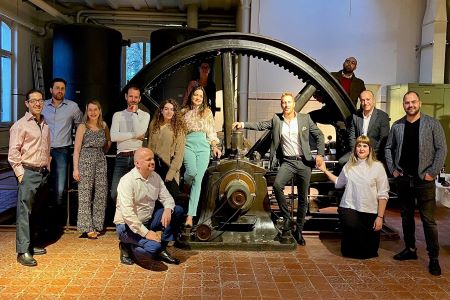 In August 2022, twelve influential young international leaders between the ages of 25-45 came together in Zurich, Switzerland to launch Young Hadassah Without Borders. Under the auspices of Hadassah International, these young men and women will become ambassadors of Hadassah in their own regions of the world.
The mission of Young Hadassah without Borders is to enlarge Hadassah's global human capacity through engaging a younger generation, expanding awareness of Hadassah's activities, and making a concrete impact by increasing access to healthcare in their region while guaranteeing the sustainability of the initiative. Their partners in this endeavor are Hadassah International (HI), Hadassah Medical Organization (HMO), and Hadassah, The Women's Zionist Organization of America (HWZOA).
The Young Hadassah initiative is made possible by the Tannenbaum Young Hadassah International Endowment, generously donated by Mrs. Bernice Tannenbaum Z"l, president of Hadassah, The Women's Zionist Organization of America between 1976 to 1980. Bernice Tannenbaum initiated and established Hadassah International in 1983 and was its first president.
As they participated in days of workshops and lectures at the Zurich Jewish Cultural Center led by Hadassah International executive director Jorge Diener, the Young Hadassah leaders bonded as they discussed topics on Hadassah, leadership, philanthropy, and motivational values that drive people to want to get involved with a cause. They have now formed a Development Committee to reach out to other volunteers from diverse backgrounds and professions around the globe who are interested in joining this transformative volunteer initiative.
The group, which includes two young doctors from Hadassah Hospital, was privileged to hear from and meet with other Hadassah leadership, including Rhoda Smolow, president of HWZOA, Naomi Adler, CEO of HWZOA, and Dr. Manno (Micky) Saks, president of Hadassah Switzerland.
They also attended a festive dinner to honor Dr. Saks, who was presented with a certificate of appreciation recognizing his volunteer participation in the Hadassah Humanitarian Medical Mission to Poland which provided medical services to Ukrainian refugees as they entered Poland.
From Zurich, the Young Hadassah without Borders participants and the Hadassah leadership then traveled to Basel, Switzerland, where they attended the 125th Anniversary of the World Zionist Congress where they had the privilege of meeting Dalia Itzik, Chairperson of the Board of the Hadassah Medical Organization (HMO) and Prof. Yoram Weiss, director General of HMO.
As a part of the roadmap decided in Zurich, plans are in the works for an exciting event in Jerusalem at the end of November. This event will allow around 50 young leaders from around the globe to participate in workshops with guest facilitators, experience exclusive visits to Hadassah Hospital's two Jerusalem campuses, meet with current and former patients, and much more!