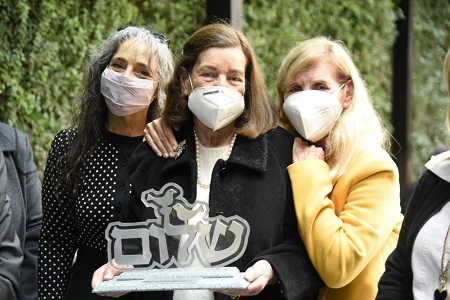 Mrs. Rashi Melh founded Hadassah Argentina nearly 40 years ago. In the 1980s and 1990s, she headed Hadassah Argentina's many fundraising and educational activities to support the Hadassah Hospitals in Jerusalem.
On their first full day in Argentina, the delegates of the Hadassah Argentina Mission had the honor of meeting the 87-year-old matriarch of the Argentinian Jewish community and took the opportunity to thank her for her achievements. The director and doctors of the Hadassah Hospital, as well as the directors and leaders of Hadassah International and Hadassah Argentina, presented her with a special gift in recognition of all the work that she has done for Hadassah in Argentina.
Mrs. Mehl was so excited. She explained that she was very grateful for the development of this Hadassah mission, and the opportunity to meet some of Hadassah's leading doctors. She continues to be very impressed by Hadassah and is so proud of the work that it does. She is so grateful that Hadassah has made the effort to come to Argentina to help during these difficult times.
Mrs. Mehl was accompanied at this historic event by her daughter, Cecilia Glazman. The two women had not hugged one another in over a year because of COVID-19. However, as her mother was being honored, Cecilia could not contain her emotion and went up to hug her mother for the first time in a year. Thanks to Hadassah and the wonderful feelings engendered by this encounter, a mother and a daughter hugged and cried together after a year without embracing one other.
Mrs. Melh said this was one of the best days of her life.