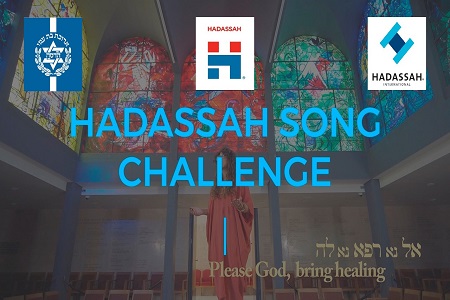 Last June, Hadassah has launched an exciting Song Challenge based on the ancient biblical prayer for healing uttered by Moses: "El na refa na la" / "O God, please let us be healed".
The task of the challenge was to create an own video version of the song, using the "Let Us Be Healed" video as a model. Participants could sing either in Hebrew or in any language, by using the instrumental background of the "Let Us Be Healed" version or, alternatively create an adaptation based on their own instrumental background.
The original song was composed and sang by Yair Levi and Shai Sol. They were joined in the song by the voices of Hadassah medical staff that came to Hadassah from all around the world, praying in their own tongues: "We must be strong, and we must be healed."
Since we have launched the challenge, we received a high number of personal interpretations, out of which we made a selection of some of the best versions, creating the compilation in the below video:
HADASSAH SONG CHALLENGE 2020 – "El Na Refa Na La" | Compilation of Best Videos
We would like to thank all the participants and congratulate them for the time and effort invested in making this challenge a success!
You can find below the links of the videos that were included in the compilation:
Orquesta Kef + Nana Schvartz & Ruben Mederson, Argentina
"The heart of the KEF Orchestra beats through Jewish music and culture, passing on the values and traditions of our ancestors while providing our own present time views and ways of feeling it."
Cantor Emanuel Puztai, Romania
Cantor Gabriel Fleischer, Argentina
Benny Schwartz and Carlos Metta, Mexico – Klezmerson