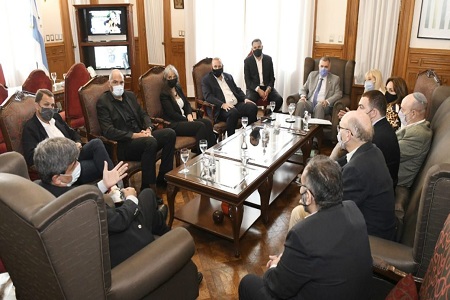 The members of the Board of Hadassah Argentina represented by its president Alejandro Kelman, Jonathan Lemcovich, and Matias Dajcz, together with Fanny Ribak, director of development of Hadassah Argentina, traveled to the province of Tucumán to begin a collaboration that will allow the incorporation of all hospitals and health centers of the province to the Health Network (Red de Salud) organized by Hadassah International and composed of medical and scientific institutions in Latin America.
The Health Network aims to share medical knowledge developed in the Hadassah Medical Organization in Israel and to provide exclusive access to training, seminars, medical conferences given by experts addressing the medical and scientific challenges of today and tomorrow, providing the possibility for professionals to enjoy the most advanced and certified knowledge. Joining the network is free of charge for all activities and all types of medical institutions, regardless of their size or specialty, can join. The themes are defined according to the interests of the majority of the participating institutions, in accordance with the information obtained in the registration form.
The delegation was received by the vice-governor in charge of the Executive Power, Osvaldo Jaldo; the vice president of the Legislature, Regino Amado; the minister of Public Health, Rossana Chahla; the national deputy, Pablo Yedlin; and the legislator Graciela Gutiérrez. The health minister stressed that Tucumán is the first Argentine province to have a collaboration of this magnitude with the Hadassah Medical Organization. "It is a great advance for constant training and exchange with the doctors and professionals of the prestigious Israeli institution," she said in this regard. According to her, this meeting will allow the interchange of knowledge, research work, conferences, seminars, and the ability to schedule rotations for doctors from Tucumán to Israel and doctors from Israel to the province. The vice-governor emphasized that "it is an improvement for the health of the public system, which will allow our professionals, as well as our hospitals, to acquire better and more knowledge."
The delegation of the Board of Hadassah Argentina also visited the Nestor Kirchner Hospital where they were received by its Director Dr. Pablo Marengo, and the facilities of the Tucumán Kehila. They also held several meetings with directors of various community institutions in the province.