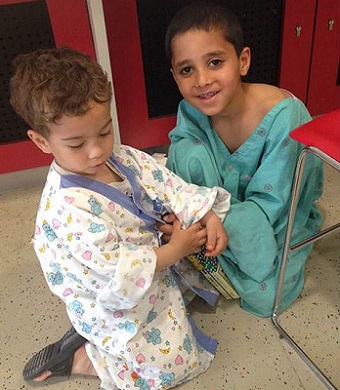 To the world, Guy Hidas and Bilal Abu-Sbeih are unlikely allies whose shared concern for their communities is achieving outcomes that most diplomats can only dream of.
Their association, as Dr Lara Krasnostein of Hadassah Australia discovered, is far more common among Hadassah's medical staff and their Palestinian colleagues from the West Bank and Gaza than the world will have you believe.
She recalls her encounter with them.
Dr Guy Hidas is a Pediatric Urologist in the Department of Urology at Hadassah. Dr Bilal Abu-Sbeih from Hebron, is a Urology resident in the same Department. For the past few years the two have worked closely on many Israeli and Palestinian children. Recently, they successfully fixed a penile birth defect on two boys from Gaza – Ahmed, aged 8 and Faris, aged 3. Both surgeries were only possible thanks to funding from Project Rozana*.
Guy:
The connection between us came from Professor Eitan Kerem, Head of the Department of Pediatrics at Hadassah.
These kids were operated on in Gaza multiple times without success and we had to remove a lot of scar tissue before we did the surgical reconstruction; at the end I was very happy with the results and hopefully they will heal well.
Are these kids a unique case? Unfortunately, no. I get kids from Gaza and the West Bank for consultation all the time. In many cases I can't operate on them due to financial and bureaucratic constraints.
Even if the Palestinian Authority sends these poor children to the best Palestinian hospitals in East Jerusalem, there are only adult urologists over there; the reality is that there is not even one pediatric urologist in the Palestinian territory.
For me it's not for the money – I would do all these surgeries with pleasure, but Hadassah need to charge for the expenses of hospitalization (anesthetics, nurses, beds etc.). We need to find the funds for this.
Another major problem is the cases of disorder of sexual differentiation in children from Gaza due to consanguinity (marriages between first cousins), where the baby is born with ambiguous genitalia and we are not sure if the child is a boy or a girl.
At Hadassah we have a team of endocrinologists, geneticists, urologists, and we also cover the social aspects, like psychologists, for life. The pediatric urology team at Hadassah is well trained and experienced with correction of this major inborn defect. After gender assignment we operate on those babies and create the desired functionally and cosmetically correct genitalia. For this process you need a long-term follow-up, which is extremely difficult with patients from Gaza. But at least we can start it for them.
We would be happy to train the doctors but getting into Israel can be difficult. For these two children the military didn't even let parents in, just the grandmothers. The parents might be related to Hamas. This causes us a lot of problems; we cannot get consent for surgery without the parents' involvement.
I have a good friend from Ramallah in the West Bank, an adult urologist who asked me to help him with difficult pediatric cases. Unfortunately I can only explain to him what to do over the phone; I can't go there to help him. Well, I can go there, but I'm not sure I can get back. There are some international groups that do 'missionary' work in Gaza – well they did before the war. The problem with this work is that the physicians in Gaza do not know how to follow up the work. I know a group of Chilean doctors who came in, did surgery and left. But in one case the young patient got infected and couldn't urinate.
Quite recently I got the phone number of the chief urologist in Gaza and we spoke over the phone, in English. I told him exactly how to follow up a patient and promised I would send pictures from before and after. So I hope we will start to have some academic dialogue.
And Bilal, he started his residency in Hebron and now comes here every day. He will be the only one in Hebron that knows pediatric urology. He comes every day – you know it is not so far, it just takes a while.
Bilal:
I'm trying here to prepare patients from West Bank and Gaza that didn't have a chance to have a surgery they need. In the West Bank we have a different system with no pediatric specialists so kids don't have anywhere to have an operation if they have a big problem.
Tomorrow in the morning I am bringing another patient from Hebron that is two years old. She has had two or three interventional surgeries without any results but we don't have the instruments in Hebron, or equipment to find the actual problem.
I come every day from Hebron and even though it is only about one hour, it is very problematic to go back and forth. I don't have a private car or buses that go there so I pay for taxis from my paycheck. But I am coming here to help the patient and facilitate the procedures and the circumstances. I prepare the children for surgery, and help them get entrance into Israel. If I can learn to do it from Hadassah, I can do it in Hebron.
I've done three years in general urology in the West Bank and about one year here in Hadassah. I don't have a problem working with Israelis and Guy helps me learn the surgery and how to improve myself.
I was born in Jerusalem, my mother and all my uncles are from Jerusalem so it's not a problem for me to come here. I used to work in the Ministry of Health for the PA so I know doctors there and nurses and heads of department and managers. I graduated from Cairo so I have friends from all over the Middle East; Jordan, Morocco. Everyone knows I am working at Hadassah, one of the biggest and strongest Departments of Urology. So any complicated case and they are in contact with me. I bring the pictures, the CT, the summary of their illness. I put it in front of Guy who helps me find a solution from diagnosis, intervention and surgery as the last step.
*Project Rozana is an Australian-inspired multi-faith initiative that is training Palestinian medical staff and health workers at Hadassah so they can return to their communities and build the health capacity there; and to provide top-up funding for critically ill Palestinian children to remain at Hadassah when PA financial support ends.