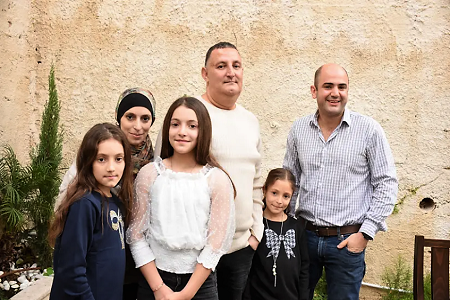 Barbara Sofer, Israel Director of Public Relations for Hadassah, The Women's Zionist Organization of America, though she knew the details of the miracle story that made its way around the world—the story of Kamel Abdel Rahman, who was saved at Hadassah Hospital Ein Kerem after falling, head first, from the second floor of an apartment as he was checking on the construction of his new home. When he landed, a long iron rod was penetrating his skull.
Hadassah's Venezuela-born neurosurgeon Samuel Moscovici successfully removed the rod that fateful February 14, 2020. But as Sofer relates, "Like many real-life stories I've written over the years, I later discover there's a story behind the story that makes them even more miraculous."
Recently, Sofer, together with Dr. Moscovici, went to visit Rahman to see how he was faring. Except for a scar near his ear, he has no physical evidence of what he'd gone through!
During the visit, Sofer discovered the story behind the miracle story. The year before the accident, Rahman's wife, Aya, was struck by Guillain–Barré syndrome, which confined her to a wheelchair. It wasn't merely renovations that Rahman was checking on the day of his accident, Sofer reports. He was building a disability-accessible home for his wife. Fortunately, Aya has regained her ability to walk, and the planned-for wheelchair ramp has been converted into stairs.
Also on the day of that visit, Dr. Moscovici told Rahman's daughters, "I usually don't mention this, but I want to share something with you. When I was a year and a half old in Venezuela, my mother had a growth removed from her back. As a result, she became paralyzed from the shoulders down. She brought us up nevertheless, not missing anything, even traveling abroad. She taught my brother, sister, and me that you can do and be whatever you want. I know you've been through a rough time, but you can, too."  Read Sofer's entire story in The Jerusalem Post.