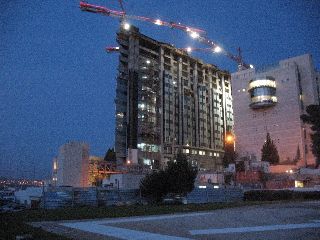 "We often speak of our hospitals as beacons of health, steadfastly shining from our two hills of healing," notes Hadassah University Medical Center Director General Prof. Shlomo Mor-Yosef. "Our magnificent new Sarah Wetsman Davidson Hospital Tower," he relates, "is already a commanding presence on our Ein Kerem campus. And in just about 36 weeks, the first patients will move into the inpatient departments on floors five, six, and seven."
Almost all of the exterior work has been finished and a significant amount of work has been done on a variety of interior floors, including the main one. To date, cash and pledges total approximately 257 million dollars! Hadassah International accounts for 22 million of this amount.
In looking at 2011: $17 million has been raised toward the Tower's $20-million goal for this year. The $1-million Challenge Grant that was announced in January was concluded successfully, bringing in $2 million for the Tower.
Among the new major Tower gifts and pledges are contributions to name the synagogue, the resource center, and the pharmacy. Click here to see remaining naming opportunities within the Tower.