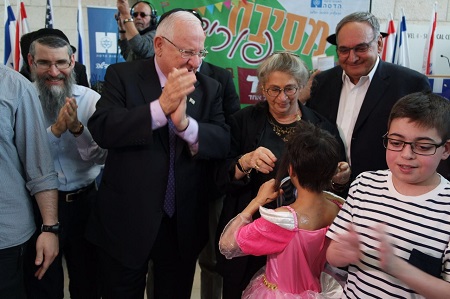 A hundred hospitalized children at Hadassah Ein Kerem got out of bed for a fun festival celebrating Purim on Tuesday. They heard music from Hassidic music star Avraham Fried, had a visit from Israel President Reuven Rivlin and his wife Nechama, and received baskets of treats (some of them a gift from Hadassah Australia).
Said President Rivlin, "Happy Purim to all the children of Israel, and in particular those of you who are in the hospital. We pray for your speedy recovery. Today, when you're not home getting dressed up and having fun, we're coming to you to cheer you up. I want to thank the incredible, wonderful doctors and nurses who are taking care of you, and who let us celebrate even in difficult times."
"I also want to take this opportunity as President of Israel and as a Jerusalemite, to welcome Prof. Zeev Rotstein. I'm so glad you are here with us in Jerusalem as the new Director General at Hadassah."
During one of the songs, a small heart patient went to sit with the President, and the two sang along together. Another little patient was sitting in the front row and looked so shy that the President called him forward and asked him to join in the singing too.
Director General Prof. Zeev Rotstein also greeted the children and assured them that the hospital was doing everything possible to make sure they get better.
In the photo, From left  Avraham Fried, Hassidic music star; President Rivlin; Nechama Rivlin; and Prof. Zeev Rotstein.