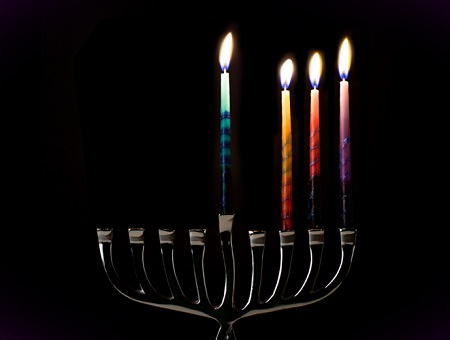 Hadassah is not only the Hospital but much, much more. The following story is real proof of this!
From Child of Ukraine to Israeli Rocket Engineer
When Inna Stepanova Zamir was 14, she didn't know anything about being Jewish. "My maternal grandparents had suffered so much from antisemitism that they didn't want my mother to discuss our Jewishness," she explains.
But then Zamir and her sister, Anya, attended some Jewish Agency programs in their hometown of Kharkov, a major city in Ukraine. A Zionist flame was ignited for the sisters. They applied to take part in the Naaleh program, where teens go by themselves to Israel to study.
As excellent students, they were both accepted. By the time Inna was 15, they were living and studying at Hadassah's Meir Shfeya Youth Aliyah village. "There was a lot to adjust to – a new language, new food, and kids who tell you everything that is on their mind," she says. "We were pampered city kids, and suddenly I was collecting eggs and working in the dining hall."
Adjust she did, however. "When I went into the Israel Defense Forces, I was better prepared than most for communal living," she recalls. Zamir was featured in the news apprehending a terrorist trying to cross into Israel. "He looked shifty," she relates, "and I had experience at reading body language."
Zamir always had an inclination toward physics and math and was well prepared by Meir Shfeya's prize-winning school for studies in the Aeronautic Engineering faculty of the Technion. She married one of her engineering classmates whom she knew from the army. In the meantime, her parents, inspired by their Zionist daughters, moved to Israel.
Zamir was in the news again recently when she won the 2019 Gemunder Prize, which will fund her future studies and research. Her doctorate is on the timing of rocket propulsion.
"I want to thank the women of Hadassah for their longtime support of Meir Shfeya, which has made it the embracing, a high-level educational institution it is and for caring about students like me," relates Zamir. "You provided the bridge between my childhood in Ukraine and my life in Israel. You made me part of the Hadassah family, not only when I was a student but forever. You gave me my future."
Now Zamir is helping to secure the safety of Israel's future.
Hadassah, the Women's Zionist Organization of America, has been supporting Youth Aliyah since the first European teens were rescued from Hitler in 1933. Since then, Hadassah has helped thousands of Youth Aliyah children achieve their dreams.