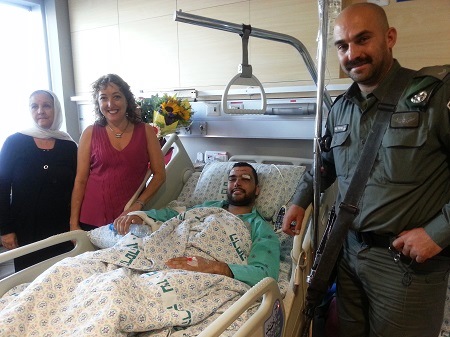 On November 5, 2014 there was a possible terror attack by car that hit Israel Defense Forces (IDF) soldiers in Gush Etzion. Three were sent to our hospital in Ein Kerem.
Talgany Yalahum, 23, is surrounded by his four adoring, pampering sisters and his mom in the orthopedics department of the Sarah Wetsman Davidson tower's fifth floor. A graduate of Netiv Meir Yeshiva and a resident of Maaleh Adumim, he was among the soldiers dispatched to secure the turbulent area outside of Kafr Al-Arub in Gush Etzion, where he was run over in a terror attack, the second in one day last week.
Three doors down in the SWD Tower is Hadi Rabah, the Druze border guard officer who was run over in the vehicular terror attack in northern Jerusalem. He was emotional as he told visitors "Without the help of Hadassah supporters from around the world, I would not be getting better as I am in this amazing hospital. I thought for a while that I was going to die. Now I'm doing so well. My family is able to be with me here in this magnificent building" He, too, was surrounded by loving family—parents and his brother and fellow border guards. They passed out coffee in tiny cups that they prepared at home in their Galilee village and brought in thermoses.
A delegation from Hadassah France also stopped by to wish Hadi well. They were very happy to pose for a photo with Hadi and his family.
Moshe Yonatan Aharoni, also run over in Gush Etzion, continues to be in serious condition in the ICU.
Please see an interview with Moshe Aharoni's parents and a video of the attack http://www.timesofisrael.com/father-of-injured-soldier-says-west-bank-hit-and-run-was-no-accident/
American tourists and soldiers from their unit visited the wounded IDF soldiers at Hadassah Ein Kerem and sang: "Oseh Shalom–make peace" Please see video at http://www.mako.co.il/news-israel/local-q4_2014/Article-e65207ba6748941004.htm?Partner=searchResults