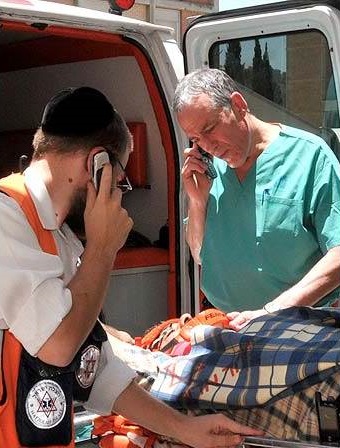 Hadassah Hospitals received two injured patients today from the terrorist attack in Gush Etzion: a 20 year old soldier with external injuries throughout his body, but considered "light" and a 21-year old with head and limb injuries. Both are conscious.
Hadassah Hospital officials provided the following update on the 13-year-old terror victim who was seriously wounded in the Pisgat Ze'ev stabbing attack on October 12, 2015
Naor Shalev is awake, breathing unassisted and aware of his surroundings as well as communicating. He remains hospitalized at Hadassah Mount. Scopus.
Chief of General Surgery Professor Ahmed Eid and who headed the surgical team who treated him said "The boy has a long road of recovery ahead but I am happy that his condition is improving and is stable. His condition was extremely serious when he arrived in the hospital and today, we remain optimistic regarding his recovery.