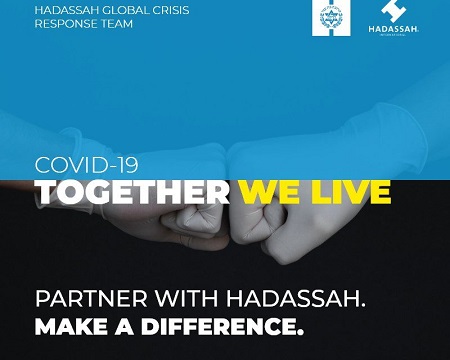 We are living through historic times — the nightmare of a worldwide pandemic of biblical proportions. Hadassah is perceived by many as a shining light in the darkness, a force that can be called upon to reach out internationally to save lives.
As the tentacles of the coronavirus have enveloped the globe, fear of the unknown has spread. It has become clear that we are all facing a plague that is taking lives indiscriminately, and that no one can count on being spared. Through the Hadassah International network, Hadassah has stepped forward to provide help for Jewish and medical communities around the world — becoming a trusted voice in the battle against the existential threat of COVID-19.
Every community has become aware that it needs to take care of its own. As each country faces its own crisis, Jewish and medical leaders have sought help from Hadassah.
Hadassah responded immediately. Under the dedicated guidance of Jorge Diener, Associate Director of Hadassah International, a Hadassah Crisis Response Team was formed that includes an elite team of COVID-19 experts from the Hadassah hospitals headed by Prof. Yoram Weiss, Director of Hadassah Ein Kerem. The constantly updated Hadassah Global Response Website  provides the latest information from the response team.
Remarkable outcomes have resulted from this humanitarian outreach.
Hadassah helped the Argentinian Jewish Community approach business leaders to create the $100,000,000 CV-19Argentina Fund — enabling a volunteer network that supports the elderly and temporary clinics. Thanks to Diener, the Argentinian Jewish News provides frequent informational updates on COVID-19. Diener has also been interviewed on local TV, and articles in the general press have generated much excitement about what Hadassah is doing to combat COVID-19.
The Mexican Jewish Community approached Hadassah to provide advice on protecting its community. The result is a website that serves as a community COVID-19 resource, and several webinars with Hadassah COVID-19 experts giving advice about various topics.
Hadassah New Zealand has joined with other local Jewish organizations to provide support and help for those who need it.
Hadassah France reaches out to the Jewish community by providing Hadassah expertise on Radio Shalom, the French Jewish Radio Channel and via webinars.
Hadassah Australia has reached out to the medical community, offering access to Hadassah's medical expertise. One webinar organized by Hadassah Australia drew the participation of over 260 medical professionals from 13 countries.
Hadassah's advice on COVID-19 is golden. Organized by the Hadassah Crisis Response Team, Hadassah medical experts have participated in numerous webinars and radio and TV interviews. Providing reliable information to both a worldwide lay audience and the medical community about COVID-19, they draw very large audiences in multiple languages in Latin America, Europe, the UK, and Australasia. At every event, anxious listeners pepper the expert with questions about what they can do to protect their families and community, and the latest research on the best way to treat the disease.
The Hadassah Crisis Response Team is now distributing the Hadassah Manual of Protocols for COVID-19, which reflects the best practices now used by the Hadassah Hospitals. It is available in Hebrew, English, Spanish and Russian. This manual has the potential to save many lives, particularly in less developed countries around the world.
Hadassah's "COVID-19 Hospital" in the iconic Round Building at Ein Kerem, with its medical experts, Isolation Wards and ICUs, is seen as not only the savior of the "holy city" of Jerusalem, it is also a beacon of hope to the world.
Communities around the world are proud to support and collaborate with the Hadassah Hospital's lifesaving COVID-19 work in Jerusalem, resulting in great excitement and participation in the  Hadassah Crisis Response Team's Crowd Funding Campaign. 
Everyone is aware that TOGETHER WE LIVE.