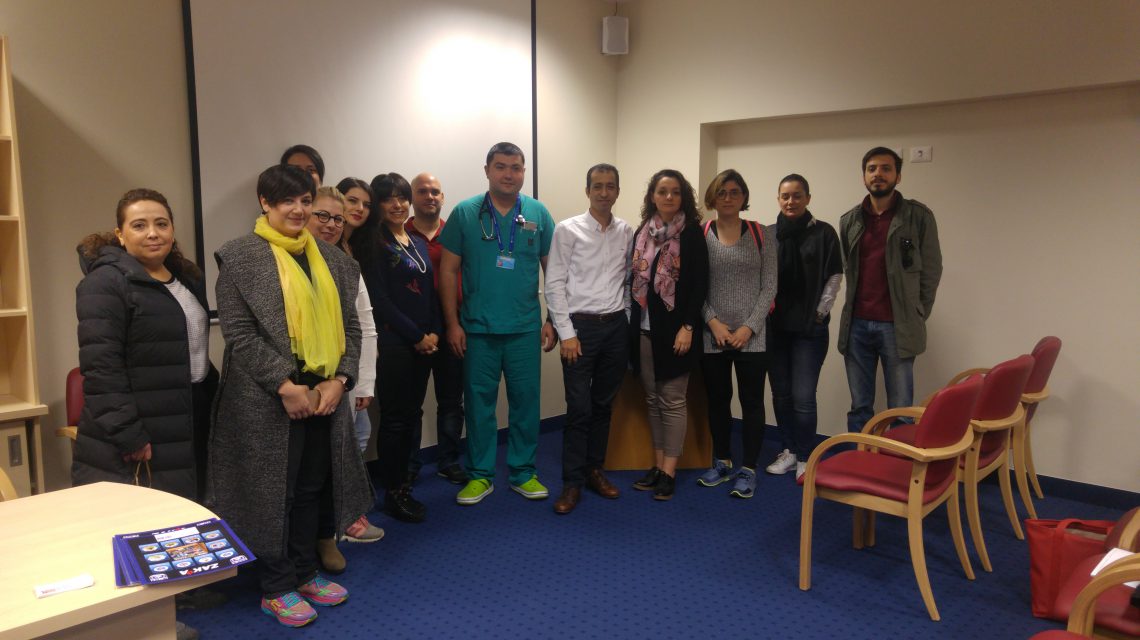 Photo Caption: Pictured with the delegation are Drs. Khalaileh and Tahiroglu (fifth and sixth from the right). Prof. Van-Heerden had been called out to deal with an emergency.
A delegation of top-tier Turkish journalists, accompanied by representatives from the Israel Foreign Ministry, visited Hadassah Hospital Ein Kerem this month, marking the first time a high-level Turkish delegation has come to Israel since the new reconciliation agreement was signed between Israel and Turkey.
Among the participants were journalists from CNN Turkey, NTV network, and the Turkish daily newspaper, Hürriyet. The delegation, guests of the Foreign Ministry, met with Hadassah's Prof. Vernon Van-Heerden, head of the Critical Care Medicine Unit; Transplant Surgeon Dr. Abed Khalaileh; and Dr. Ilgar Tahiroglu, a resident in cardiology from Turkey. The journalists engaged in a question-and-answer session that addressed such topics as Hadassah's ability to deal with the aftermath of terrorism, the challenges of transplants in countries where the population is resistant, and how HMO has reached such impressive medical achievements. In answering a question about research, Prof. Van-Heerden described the atmosphere at Hadassah in which even the busiest clinicians feel the need to seek answers to medical challenges.
Prof. Van-Heerden and Dr. Khalaileh described their ability to treat both terrorists and terror victims, despite the complexity of their feelings. Dr. Khalaileh had spent three months in Turkey studying liver transplantation from live donors and continues to be involved in joint projects with Turkish colleagues. He urged the journalists to take an activist role in promoting organ donation.
Dr. Tahiroglu spoke in Turkish about his experiences as a cardiology resident studying in Israel and the advanced education he is receiving. He emphasized that the hospital culture is one of openness and a lack of prejudice.
The 11 journalists–some, first timers to Israel– were also interested in the role HWZOA plays in building and supporting the hospital. As part of their visit, they viewed the Metta Cohen Pediatric Intensive Care Unit in the Sarah Wetsman Davidson Hospital Tower. "We really appreciate the insider's view of the Hadassah Medical Organization, even providing a speaker who could address us in Turkish," commented Deniz Ciyan, news editor of the Daily News in Istanbul.
Hadassah's Israel Director of Public Relations Barbara Sofer, who coordinated the visit, invited the journalists to be in touch directly about news from Israel.