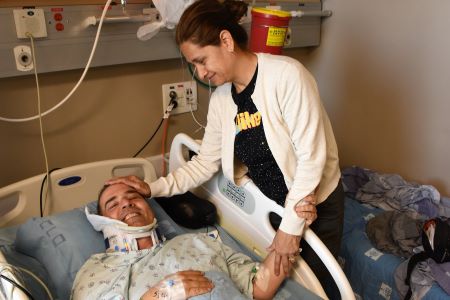 The tourists visiting Israel from Colombia, South America, had just ridden the cable car down from the archaeological site on top of Masada. Mostly Christians, the tourists had waited impatiently during the COVID-19 pandemic for tourism to resume in Israel.
"We were so eager to come, and we were all loving every minute," relates their tour leader, Andreas Velez. "I hadn't been to Israel for 20 years. So much has changed; there has been so much growth."
Velez, a young and outgoing 61-year-old, had been helping the group members carry their luggage from place to place and traverse the rocky terrain on the hilltop archaeological site. Once everyone was back on the spacious bus, Velez stretched out on the bench seat in the rear. As the bus headed towards Tel Aviv, the driver hit an unexpected bump in the road. Velez, not wearing a seat belt, was lifted in the air and came down hard. He felt an excruciating pain in his back and let out a piercing scream. He couldn't stand or sit.
An ambulance raced Velez to Hadassah Hospital Mount Scopus, where he learned that he had two fractures in his spine. Velez was transferred to Hadassah Hospital Ein Kerem, where spine surgeon Dr. Joshua E. Schroeder, together with neurosurgeon Prof. Jose Cohen, had developed a technique to do complex spinal repairs more quickly and safely than with traditional surgery. They use state-of-the-art equipment donated by USAID-ASHA (United States Agency for International Development/American Schools and Hospitals Abroad), which is housed in Hadassah's Endovascular Neurosurgery Unit.
Dr. Schroeder explains, "We discovered that Velez had two separate breaks, one in his cervical spine and the other in his thoracic spine. We had a long discussion on the best way to do the repair. The problem is that if we give patients general anesthesia, they lose muscular control during surgery, and their muscles become flaccid. That runs the risk of exacerbating the cervical fracture, which can lead to lifelong paralysis. Consequently, we decided to keep Velez awake for the procedure. We stabilized the thoracic fracture with screws and left the cervical fracture to heal by itself."
The Hadassah Medical Organization specialists are among the few teams in the world that can perform this minimally invasive surgery to repair broken backs using only local anesthesia.
Within 20 minutes, Velez's back was repaired.
 "He left the hospital on his own two feet and will soon be able to resume his active career," Dr. Schroeder relates. "This is a transformational spine surgery, and we're grateful to have the state-of-the-art equipment needed to make it possible."
Velez, who has led tours to some 70 countries, comments that he is certain that a heavenly hand directed him to Hadassah. "I've been all around the world, and to many rural places where this kind of injury would have been a death sentence," he says. "But I had this happen to me in Israel and was treated in God's hometown. It could not be by chance. I'm so thankful to God and to Hadassah."
Watch below Andreas Velez relate about his accident and experience at Hadassah Hospital in Jerusalem:
Watch below spine surgeon Dr. Josh Schroeder talking about Andres Velez's case: