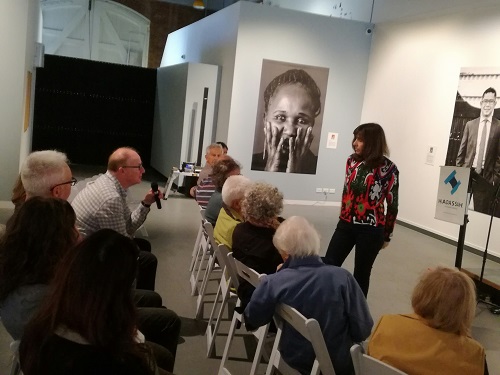 On Sunday November 5th, a group of Hadassah supporters met at the Wellington Portrait Gallery to view a special exhibition. Twenty black and white, two-metre-tall portraits of refugees who have made NZ home were exhibited. Tracey Barnett a journalist who has spent time in refugee camps shared her experiences and talked about some of the portraits displayed. This event was a fundraiser for Hadassah New Zealand organized by Hadassah Wellington President, Sam Treister.
Special thanks must go to Tracey Barnett for volunteering her time in support of Hadassah, and to those who attended.
Below are comments from some of those who participated.
 'The impact of Alistair Guthrie's stunning two metre black and white photographs was intense, capturing the individuality of each person – they ranged from young children to the elderly. Each portrait was supported by extensive informative notes and by comments from the new New Zealanders themselves. Tracey Barnett, the exhibition's curator, gave a passionate introduction to the exhibition, detailing some of the facts and figures, and correcting some misconceptions, on the position of refugees and the varying responses of communities and governments to this humanitarian crisis. It was wonderful to hear the stories behind each story and to gain a better understanding of the needs of refugees through the exhibition. More information can be found at https://wagepeacenz.org/; a web search will show some of the portraits but there is no comprehensive catalogue of them on line.  Many thanks to Hadassah and to Tracey for better informing us on refugees in our community.'
L. Young
'Thanks very much, Sam, for organising the session on behalf of Hadassah New Zealand.
Tracy is an engaging and highly informed speaker who is obviously very passionate and empathetic about the plight of refugees around the world and, especially, where New Zealand might be able to be more involved. Through her descriptions of several situations, she gave the refugees a voice while the large images on the surrounding walls served to give them a presence. 
The stories that accompanied each image highlighted the resilience of the refugees, many of whom had suffered years of hardship, and served as a reminder of the success and contribution that each and everyone has or can make to the country that provides them with an opportunity.'
E.Cohen
'The event was one of the most enjoyable of its type. I liked the way a small empathetic group could inter-relate with the subject of displaced people and their achievements, with each other and the speaker.  The fusion of a highly professional photographic  exhibition,  an  excellent  lecture in content and delivery and the arrangement of the seating and audience  was smooth and effective.' J.Siers
'The exhibition of refugees was very well thought out because of the ages portrayed as well as representing refugees from many countries.'
R. Gotlieb
'It was heart-warming to see Freda and Bob Narev among the beautiful photos in the exhibition; it reminded me that Jewish refugees to NZ have been major contributors to NZ society, and to our Jewish community. All the more reason for the Jewish community to help support new refugees who come here.'
D. Zwartz