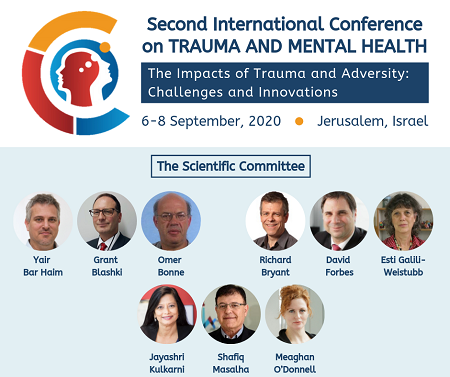 Explore the key issues faced by psychologists, psychiatrists, GPs, social workers, counselors and others dealing with patients or clients affected by mental trauma and PTSD.
Learn the latest techniques and methodologies that are being applied in the real world to help support the mental health and well-being of both children and adults. Discover the consequences of living in long-term trauma and conflict, and the progress being made in the prevention and intervention in mental health consequences of trauma.
The theme of the conference is 'The impacts of trauma and adversity: Challenges and innovations. 'The
sub-themes are 'Consequences of living in long-term conflict zones' and 'Innovations in the prevention and intervention in mental health consequences of trauma'.
The committees have developed a truly international event with high profile keynote speakers from Australia,
UK, USA, and Europe. It is anticipated that speakers will participate from across the region and internationally at the conference.
The international conference is designed to cover topics of interest and concern to health professional including clinicians (GPs, psychiatrists, psychologists, pediatricians, nurses, and social workers) and researchers.
The quality of the speakers will be outstanding and there will be opportunities for paper presentations from clinicians and academics.
The Scientific Committee:
-Yair Bar Haim
-Grant Blashki
-Omer Bonne
-Richard Bryant
-David Forbes
-Esti Galili-Weistubb
-Jayashri Kulkarni
-Shafiq Masalha
-Meaghan O'Donnell
Trauma and mental health are broad categories that deal with situations affecting every community, irrespective of their geography, political frameworks or social advantage. The Second International Conference on Trauma & Mental Health will have something for everyone.
Join the Facebook event here to get the latest updates on the conference.​