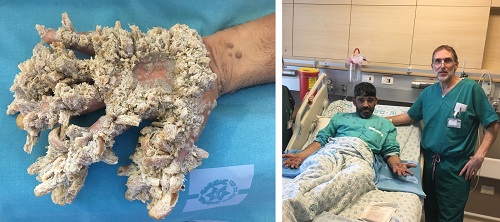 Pioneering treatment at Hadassah Medical Center in Jerusalem is giving a man from Gaza who suffers from a very rare, painful, and incurable skin condition known as 'Tree Man Syndrome' a chance to live a normal life.
Treating Mahmoud Taluli, and ultimately saving his hands, has been a long process — and it isn't over yet. In four operations since 2017, doctors have removed thousands of lesions from his hands and other parts of his body caused by HPV, human papillomavirus–the same virus that causes common warts.
"After years of suffering and solitude, I can finally live a normal life," says Taluli. "Doctors in Egypt and Jordan recommended amputation, but my Hadassah doctors say amputation is not a solution. They do not give up on me. I will be having my 5th surgery later this summer."
 "I consider myself a winner," Taluli gratefully told his doctors.
Read more in NPR's Goats and Soda global health blog.
To see a previous article about Hadassah's 'Tree Man' in 2017 when he first turned to Hadassah for treatment, go to http://v2023.hadassahinternational.org/mans-tree-hands-surgically-normalized-hadassah/