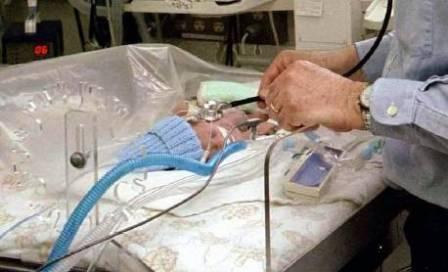 When a sonogram detected a mass in a 19-week-old fetus, the pregnant woman was referred to the Hadassah Medical Center, where Dr. Michel Nadjari, head of Hadassah's Ultrasound Department, identified it as a large fetal sacrococcygeal teratoma (SCT), a tumor made up of tissues from the three layers of embryonic cells.
Most babies born with SCT undergo surgery to remove the mass after birth, and usually do very well; however, in a few cases, the tumor grows so quickly that it must be removed prenatally to prevent heart failure. This was one of these rare cases. The danger is that the tumor will cause the fetus' heart to pump too hard in an attempt to circulate blood through the tumor's many vessels.
Dr. Nadjari consulted with Hadassah colleagues in Pediatric Surgery, Pediatric Intensive Care, and Neonatology. They decided to deliver the baby at 32 weeks, when she would weigh about four or five pounds. By the time the fetus was approaching four pounds, the diameter of her tumor was a daunting eight inches, and the physicians decided on an emergency C-section. But before they performed the surgery, they kept the baby in Pediatric Intensive Care for a few days to make sure her lungs were strong enough to withstand the surgery, given the fact that the large tumor had already deformed her respiratory system.
The surgery took five hours, but the surgeons succeeded in removing the entire mass, and the baby is slowly recovering. "The teamwork that has helped her so remarkably thus far," explains Dr. Eitan Gross, head of Pediatric Oncology Surgery, "will continue to work together to enable her to live a normal, healthy life."