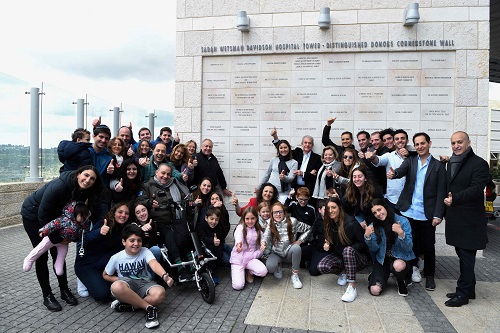 How do you transmit your values to your children and your children's children? Le dor v'dor – from Generation to Generation?
For Salvador and Raquel Harari and Jose and Linda Askenazi from Mexico, the answer was clear. You take the whole family to Israel for Passover, thus fulfilling the prayer in the Passover Seder of "Next Year in Jerusalem". While you are all there, you also take them to the Hadassah Hospital to show them how they can save lives by giving Tzedakah (charity) that really makes a difference.
The two families arrived at Hadassah Ein Kerem, a happy group of over 40 family members representing four generations, including a babe-in-arms, and were welcomed by Jorge Diener, Hadassah International Associate Director; Attila Gulyas, Hadassah International, Global Executive Assistant; and Gidon Melmed, Director of Development, Donors and Events Department at the Hadassah Offices in Israel.
Together the families celebrated the dedication of a Cornerstone Plaque on the Sarah Wetsman Davidson Hospital Tower Distinguished Donors Cornerstone Wall, recognizing the special role that they have played in rebuilding Jerusalem and Hadassah's special role in bringing hope and healing to the city.
The families were then taken to the Operating Rooms for the second dedication of the day, the unveiling of a plaque in honor of Salvador and Raquel Harari and Jose and Linda Askenazi in the Neurosurgery Operating Rooms. Salvador and Raquel Harari and Jose and Linda Askenazi then had the opportunity to don surgical scrubs and see the surgery departments and operating rooms for themselves, and to learn how their gift to Hadassah is saving lives every day.
Then it was back to the whole family, and the opportunity to admire the beautiful Chagall windows in the Abbell Synagogue at Hadassah Ein Kerem.
The joyous visit concluded with a festive lunch in the Panama Room, where the two families were presented with special "Hadassah at 100" books to thank them for all that they do for Hadassah, and to commemorate this special visit. See the video below.
In appreciation, Salvador and Raquel Harari wrote the following to Jorge Diener:
I thank you for all you did for my family during our visit to Hadassah Hospital. We feel very honored by the excellent welcome extended to us by you and all the people we met. We will remember this day as a very special and unforgettable one. 
In the Psalms, we find one very special saying that you should see with the children of your children peace in Jerusalem, and that is the memory we will keep from this amazing Hadassah Hospital, a special memory of a place that cares for the lives of all people that are taken care of there. 
We pray that Hashem sends you all many Blessings, to all that give their souls and hard work to save lives. 
Thank you, Jorge, for welcoming us. 
Salvador and Raquel Harari.