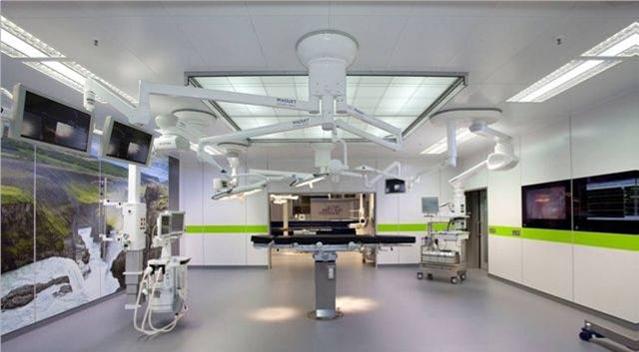 Designed and outfitted to meet the challenges of cutting-edge surgery today and the surgical changes of the decades to come, the 20 ultra-modern operating rooms in the Sarah Wetsman Davidson Hospital Tower will all be on one floor, four floors underground, with the safeguards to handle biological or chemical attacks.
One operating room will be reserved exclusively for the Trauma Unit. The others will be used for general surgery and surgeries in the fields of cardiothoracics, neurosurgery, orthopedics, otolaryngology/head and neck, vascular disease, pediatrics, plastic surgery, gynecology, maxillofacial surgery, and urology. The operating rooms will be equipped for medicine's most complex procedures.
Located on the largest floor in the Tower, the operating rooms' expansive area will allow for the installation of all the equipment on the ceiling or the walls. Individualized case carts, specifically matched for the individual patient's surgery, will be on hand when the patient arrives.
The operating rooms' infrastructure will accommodate computer systems of the future as well as the latest advances in surgical techniques, such as robotic surgery.
The operating rooms are scheduled to open in January 2013.