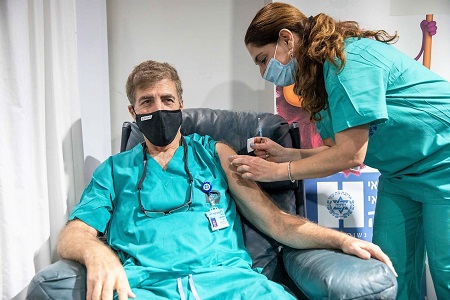 A Hadassah Medical Organization study reveals that broadly vaccinating hospital employees substantially reduced COVID-19 infection rates within its two hospitals, despite the fact that Jerusalem has had the highest rate of COVID-19 illness in Israel. Moreover, Hadassah Hospital Ein Kerem has been treating the most COVID-19 patients than any other hospital in Israel, relates Hadassah infectious disease specialist and one of the study's researchers Prof. Ran Nir-Paz.
The findings of the study, conducted in collaboration with the Hadassah-Hebrew University Faculty of Medicine and Clalit Health Services, were published in The New England Journal of Medicine on March 23.
The study traced the prevalence of COVID-19 among Hadassah's 6,680 employees before and after receiving the Pfizer vaccine. Data was collected over eight consecutive weeks post-vaccination. "Among the vaccinated workers," the authors report, "the incidence of COVID-19 following the first dose declined notably after the second week." In addition, they explain, "the incidence of infection continued to decrease dramatically and then remained low after the fourth week."
During the course of the study, the illness rate among vaccinated workers dropped to one case per 1,000 workers per week. This contrasts with a rate among Jerusalem residents of 10 to 20 cases per 1,000 individuals per week.
Since the onset of the epidemic about a year ago, some 700 Hadassah hospital employees, approximately 10 percent of the staff, have been diagnosed with COVID-19. Many more were required to isolate themselves because of significant exposure to individuals who had COVID-19. The researchers report that the majority of sick employees were infected in the general community, rather than while working at Hadassah's hospitals, where protective measures were in effect. Further, they add, "the incidence among health care workers was similar to that in the Jerusalem population."
The researchers conclude, "These findings suggest that widespread and effective vaccination among health care workers provides a safe work environment, even in the presence of a high rate of COVID-19 infection in the community."
It is noteworthy, too, that according to data from Israel's Ministry of Health, during the study period, the British variant of the coronavirus (B.1.1.7) was responsible for 80 percent of the COVID-19 illness in Israel. Therefore, the research findings support the conclusion that the Pfizer vaccine is effective against this strain as well.
B.1.1.7 was first found in Israel in December 2020. By January 19, 2021, it was estimated by Israel's Ministry of Health to account for 30 to 40 percent of COVID-19 infections in Israel. By February 2021, the prevalence had reached 80 percent.
Photo caption: Prof. Chaim Lotan, immediate past director of the Hadassah Medical Center's Heart Institute is being vaccinated.