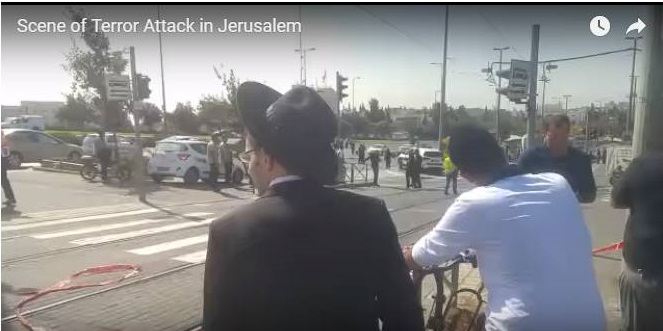 A gunman opened fire this morning in Jerusalem near Sheik Jarrah, in the area between the National Police Station and the Light Rail. Four patients, two in critical condition, were evacuated to Hadassah Mount Scopus. A fifth patient shot in the arm and knee was brought to Hadassah Ein Kerem.
Mount Scopus Director Dr. Osnat Levzion Korach  announced that two patients, a police officer and a woman, 60, who were shot by the terrorist this morning could not be revived at the hospital and were pronounced dead. The officer took part in the shoot-out that stopped the terror rampage. The woman was a bystander.  The other three patients injured in the attack are improving.
The terrorist was identified as Mesbah Abu Sabih, 39, from the Silwan neighborhood of Jerusalem. Hamas in Gaza has taken proud credit for the attack.
Prof. Zeev Rotstein, Director General of the Hadassah Medical Center, in a statement made to the press, said:
"The ruthless attack in Jerusalem, in the period between Rosh Hashanah and Yom Kippur, is a painful reminder that our prayers for a Jerusalem of peace, unity and health for all, hasn't yet come into being. Our Hadassah on its two campuses of Ein Kerem and Mount Scopus, will continue to protect the lives of the residents of Jerusalem day and night like a guardian wall to save lives and prevent pain and disease. We send our condolences to the families of those who died today, and wish a full and speedy recovery to all of the injured".
http://www.israelnationalnews.com/News/News.aspx/218777
http://www.jpost.com/Arab-Israeli-Conflict/Initial-Four-hurt-in-terror-shooting-at-Ammunition-Hill-in-Jerusalem-469743
Update Oct 10, 2016:
The patient at Ein Kerem is Alexei Botzikin, 29, an officer in the Yassam special forces of the police. He was shot in the elbow, and in the hip. He has undergone initial surgery to stabilize him. He was operated on by Professor Iri Liebergall and Dr. Amal Khoury. He will undergo additional surgery before beginning the process of rehabilitation at Mount Scopus.  He's engaged and hoping he'll be able to get married on time.