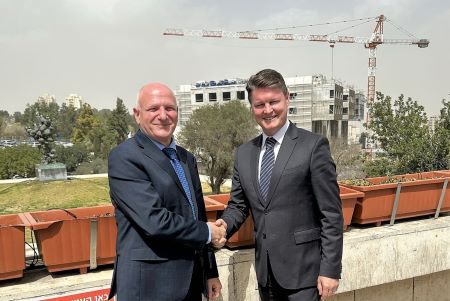 Ben Carroll, Victorian State Member for Niddrie, and Victorian Minister for Industry and Innovation, Minister for Manufacturing Sovereignty, Minister for Employment, and Minister for Public Transport in the Victorian Government, was hosted at Hadassah Mt Scopus on Monday this week.
Led by Minister Carroll, the Israel Australia Chamber of Commerce (IACC) delegation included Tim Dillon, Agent General for Victoria to the UK and Commissioner to Europe and Israel; David Latina, Deputy Secretary Ministry of Industry and Innovation – Victorian Government; Fiona Ward, Chief of Staff, Office of The Ministry of Industry and Innovation – Victorian Government, Manufacturing Sovereignty, Public Transport – Victorian Government and Miriam Syber and Janet Goodwach from the IACC.
Minister Ben Carroll's delegation was warmly welcomed by Hadassah Director General Prof. Yoram Weiss who expressed Hadassah's appreciation of the important links between Australia and Israel. He highlighted the connection between the Gandel family, Australia, and Israel, acknowledging the many doctors and medical professionals who received training and fellowships in Australia. Was noted that the Deputy Director of the Hadassah Mt Scopus campus, Dr. Yael Deckel, and Dr. Ahmad Nama, the Director of the Emergency Department at Hadassah Ein Kerem had received training in Australia.
Suzie Benvenisti Executive Director of Hadassah Offices in Israel provided a brief overview of the history and current role of the Hadassah Women's Zionist Organization of America (HWZOA) and the roles of Hadassah International and Hadassah Australia in the Gandel Rehabilitation Center.
During the visit, the delegation learned about Hadassah's cutting-edge research and innovation efforts, including CAR T therapy, stem cells, macular degeneration, and partnerships with major pharmaceutical companies. The guests were impressed by the organization's commitment to advancing medical science and improving patient care.
Dr. Tamar Elram, Director of Hadassah Mt Scopus, spoke about the rehabilitation department and how the new Gandel Center will make a huge difference in patient care.
Minister Ben Caroll expressed his keen interest in meeting with Hadassah representatives, given the organization's significant historical role in providing medical services in Israel. He was grateful for the connection created through the Gandel family and Foundation and expressed his eagerness to see the Gandel Rehabilitation Center completed.
The visit concluded with a tour of the construction site of the new Gandel Rehabilitation Center, where architects Arthur Spector and Arvind Mehta, presented the building and its facilities. Minister Carroll and the group were impressed by the magnificence of the Center and the sophisticated facilities that will serve the people of Jerusalem.