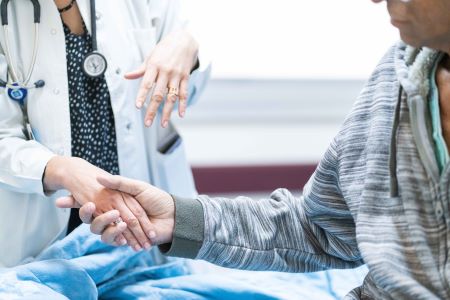 Sitting for nine days at the bedside of her 94-year-old father, an oncology patient at Hadassah Hospital Ein Kerem, Shira Goodman witnessed a side of the Jewish people and the State of Israel in ways she had never experienced before. The small acts of kindness extended to her father and the respect and humanity displayed by staff and others despite their differences inspired and moved her. Goodman is chair of the Board of Directors of the Combined Jewish Philanthropies of Greater Boston. Her husband, Wesley Gardenswartz, is the senior rabbi of Temple Emanuel in Newton.
"Hadassah not only brings out the best in Jews who see and value one another. It also brings out the best in human beings from an array of backgrounds who would never interact outside of the hospital, but who do so beautifully in the hospital. Doctors, nurses, patients, the cleaning crew, the food and beverages crew, come from so many corners of Israeli society: Jewish and Arab, secular and modern Orthodox and Haredi, men and women, and every day they see, respond and work with one another intuitively. One doctor, who wears a kippah, always asks my father for a d'var Torah. A second doctor is secular. The PT guy is an Arab Israeli. The nursing care was helpful and compassionate whether the nurses were Arab Israeli or Jewish Israeli. Why do we have to wait for a hospital stay to see and value one another's humanity in the presence of our difference?"
Read Goodman's observations and aspirations here.