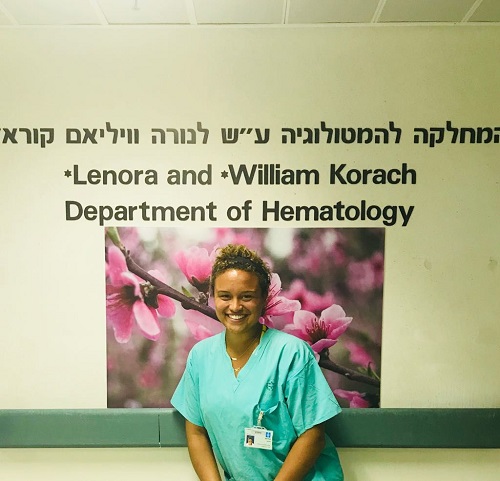 Most summers Liza Parab, 24, was a globetrotter, seeking new experiences. Not this summer. Parab spent her college vacation in Hadassah's Hematology Department. For two months, she made sure the medical supplies by the patients' beds were fully stocked, she ran to the pharmacy to deliver antibiotics to the department, and she greeted each patient in the morning when she delivered the towels.
"I will always remember the feeling of being part of a team and feeling at home with so many different people who genuinely care about me," said Parab. "The people at Hadassah made this experience so special."
An only child, Parab grew up in Princeton, New Jersey. Her father Samuel is a Jewish-German immigrant. Her mother, Sylvia, is African-American and originally from Richmond Virginia. Sylvia converted to Judaism soon after meeting Samuel. "Growing up, my parents made sure I was in an environment that supported my diverse background," said Parab. "For high school, I went to boarding school with teens from all over the world. My Jewish identity came from my family and our many trips to Israel."
After completing her bachelor's degree in speech audiology at Northeastern University, Parab decided she wanted to become a Physician's Assistant. Her cousin, Dr. Jeff Golden, Chair of the Pathology Department at Brigham and Women's Hospital in Boston, recommended she come to Hadassah for the summer. "When I saw that Onward Israel could arrange an internship for me at Hadassah, I knew my plans for the summer were set," said Parab. "It's important for me to see how healthcare works outside the U.S.
"Not speaking Hebrew isn't an obstacle," said Parab. "A smile, body language, or pointing, I can communicate with anyone here. We just make it work.
"I feel like I'm a somebody here, not just a volunteer," said Parab. "It's very different from the U.S. where there is more distance between doctors and the rest of the medical staff, as well as the patients. On my first day here, a doctor offered to make me coffee and I almost fell off my chair! At Hadassah everyone is family."
Hematology Head Nurse, Widad Hasan made it clear to Parab that she has a standing job offer to return to Hadassah once she concludes her studies in the U.S. "Widad taught me how to read patients' vitals," said Parab. "I learned a lot about providing great medical care and emotional support during my time here."
The most notable lesson Parab says she'll take back with her to the U.S., "Compassion and heart is what I hope to take from my time at Hadassah, so I become a better Physician's Assistant."