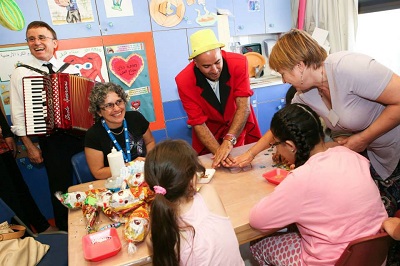 The Hadassah Center for Children with Chronic Diseases at Hadassah Mount Scopus embodies the goals of the United Nations Convention on the Rights of the Child, providing quality care to children with chronic illnesses or special needs.
By definition, a chronic disease is one whose duration exceeds one year and requires extensive treatment and medical monitoring. Because this type of disease can extend over a long period, it can greatly affect the daily life of the child and that of his whole family.
The only one of its kind in Israel, the Center provides an innovative approach. Treatment is "all inclusive" for both the child and his or her family, taking into account all the the physical and psychosocial ramifications of the disease.
The Center cares for children with special needs and those with complex diseases or conditions requiring intensive treatment and intervention specialists. It allows patients to receive integrated multidisciplinary treatment in one place, provided by a team of medical specialists, nurses, dieticians, social workers, developmental psychologists and rehabilitation physiotherapists who are already familiar with the medical history of the child.
Established in 2007, the Center was designed and created by Prof. Eitan Kerem who now heads the Pediatric Division of Hadassah. "Before we established the Center, the treatment of children with chronic diseases was not concentrated under one roof, and we felt that patients and their families were lost in the system from one specialist to another," explains Professor Kerem.
"Our idea is to create an emotional, family and social medical center that can holistically meet the medical needs of children with chronic diseases. Nearly 10 % of Israeli children suffer from diseases that affect them for the long term. This is a significant number of children who need integrated help in dealing with all aspects of their care. Our center welcomes thousands of children and provides tireless care, despite the constant increase in the number of patients each year."
"Today, the construction phase of a therapeutic garden funded by Hadassah Australia is underway just outside the center (at Mount Scopus). This will provide parents and their children the opportunity to wait in a pleasant and relaxing place that promotes the healing process."
Professor Shaya Wexler, Director of the Center for Children with Chronic Diseases, says that the center cares for some of the most severe cases that require a multidisciplinary medical treatment. "We recently treated an abandoned baby with malformations. After finding a willing couple to adopt the baby, we helped the couple by facilitating a series of examinations and all the necessary tests and medical care for the baby in one day. We could see immediately how this initial examination made it easier for the couple. Hadassah's vision of holistic treatment that involves the whole family is very important for the treatment of a child with a chronic disease."