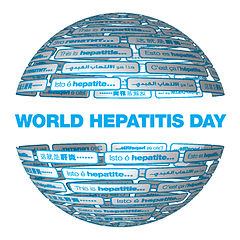 World Hepatitis Day 2018 is on July 28.
The World Health Organization calls for raised awareness of the global burden of viral hepatitis and to affect change. Hadassah Medical Organization has played a major role in fighting this deadly disease and continues to be an international leader in the fight to defeat it.
The A B C's of Hepatitis and Hadassah's Role in Fighting this Disease
Hepatitis C
Shuki Mizrachi already had three kidney transplants and years of dialysis after a rare genetic condition caused his kidneys to fail. At 42, his body was no longer able to undergo dialysis, and there were no healthy kidneys available for transplant. That's when Hadassah nephrologist Dr. Keren Tzukert offered Mizrachi a chance to be the first Israeli patient to receive a kidney from a donor with Hepatitis C. "When you are drowning, and someone offers you a life raft, you take it – even if there is a small hole," said Mizrachi.
Mizrachi received antiviral medications to combat the Hepatitis C immediately following his kidney transplant. A year after the transplant, Mizrachi is still healthy with no sign of Hepatitis and a functioning kidney. Since then, three additional patients at Hadassah received kidneys from Hepatitis C positive organ donors.
Hadassah is one of the first medical centers in the world to perform an organ transplant from a donor with Hepatitis. "The success of antiviral medications in combating Hepatitis C made such transplants a viable option," said Professor Rifaat Safadi, Head of Hadassah's Liver Unit."Without this, the kidneys would of course have been rejected. Our patients' lives were saved."
Hadassah was one of the first medical centers in the world to use antiviral medications in combatting Hepatitis C. This option was introduced in 2014 and these antivirals have improved and proven to be a potent response to the disease. Previous treatment of Hepatitis C included injections of interferon. These injections were painful, and often ineffective.
Hadassah participated in the international clinical trial for the development and FDA approval of antiviral medications in the treatment of Hepatitis C. "Hadassah summarized the Israel experience and our real-life results were comparable to the expected, published data," said Professor Safadi. "This added credibility."
Professor Safadi served on the committee for determining which medications would be included in the Israeli Health Basket to be included in the national health plan, and strongly advocated for including the new treatment despite the cost. Israeli patients who qualified with certain criteria began getting it in 2015. Last year, it became available to all citizens.
Hepatitis B
The most potent vaccine for Hepatitis B was recently developed by researchers at Hadassah and the Weizmann Institute of Science. Previous vaccines focused on targeting one type of protein surrounding the cell of the virus. The current vaccine attacks three different types of proteins, making this vaccine stronger, faster and more effective in combating Hepatitis B.
"The current vaccine enables the patient to develop antibodies in a matter of days, as opposed to a matter of weeks," said Dr. David Hakimian, physician at Hadassah's Institute of Gastroenterology and Liver Diseases. The vaccine is currently approved for use in ten countries – including Israel – but is not yet widely available to the public. "There is now less room for worry. If Israel needs to send security or medical personnel to provide aid in another country, this vaccine is rapidly effective, ensuring our personnel are protected," said Dr. Hakimian. "We also use this vaccine when treating complex patients and the elderly with a variety of health conditions. This new vaccine is proven to protect a patient who has a variety of health problems, including kidney failure and diabetes."
Hepatitis A
Under the leadership of Prof. Daniel Shouval, Hadassah developed the vaccine for Hepatitis A and continues to contribute to vaccine strategy and best practices. In 1999, Hadassah began vaccinating toddlers as young as 18 and 24 months – the first in the world to vaccinate at such a young age – because Hadassah researchers saw that the disease was being passed from the toddlers to their parents. This strategy has since been adopted by eleven other countries – including the United States.
In Israel, Hadassah used to be the only place for Hepatitis A diagnosis. All suspected cases were directed to the sophisticated tools available only at Hadassah. "In the last decade, we are pleased to see that all local health funds have the tools to diagnose Hepatitis, making the process quicker and more accessible for all Israelis," said Professor Safadi. "Imitation goes beyond flattery. In this case, saves lives."
Read more about Prof. Daniel Shouval's contribution to the worldwide fight against Hepatitis.