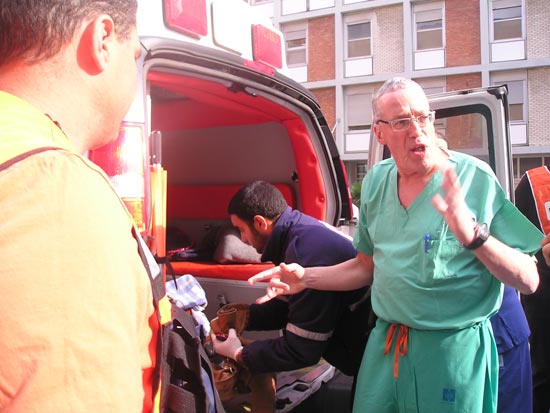 Avi Rivkind is head of the Trauma Clinic at the Hadassah Hospital in Jerusalem and is regarded throughout the world as an expert in emergency medicine. In his department, he treated both victims and assassins. On September 30, Rivkind is in Zurich to present his approach on the occasion of a Hadassah Switzerland event.
The following interview appeared in the Swiss newspaper "Tagblatt der Stadt Zuerich" on September 22, 2015:
The man who was admitted to the operating room of the Jerusalem Hadassah hospital with severe abdominal injuries on the 29th of May, 1996, was a mass murderer. Hassan Salameh, Palestinian, was one of the masterminds behind the suicide attacks on two buses in the middle of Jerusalem. The man had 45 human lifes on his conscience. Prof. Avi Rivkind, the Senior Surgeon at Hadassah's Trauma Clinic, had the duty to save Salameh life.
Avi Rivkind what is happening inside of your head at such a moment?
I could prove to him that he, a patient coming to an Israeli, a Jewish physician, receives the best treatment in the world. These terrorists, who kill Israeli civilians, are stylized as "heroes" in their camps. And now there was one who was to be rescued by an Israeli doctor. I wanted to show him and his followers that we are people. But there is actually no room for strong emotions in my work, generally speaking. If I have to save the victims of a terrorist attack, every minute counts. We simply have to work.
What Mission motivates you?
I am the only child of Holocaust survivors, and have learned that every person, in any situation, deep down in his/her heart, just wants to stay alive. And we should do everything possible to save another human being, regardless of where that person comes from or what he/she has done. When I see the black framed obituaries of young people in Israeli newspapers, then it gets to me, painfully. It makes me think that we have done too little for these people. And in my value system, there is no discrimination. The Hadassah Hospital staff also follows this philosophy. Everyone is treated the same here.
As a specialist in 'terror medicine', you are also a consultant for other hospitals, abroad. E.g., you took care of the victims of the terrorist attack of Boston in 2013. Which method do you use for such an emergency treatment?
During the second Intifada in 2002 with their dreadful terrorist attacks we developed, the principle of the "golden hour" at Hadassah. The treatment in the first 60 minutes reduces the risk of death by three times. During these first minutes after an attack, patients undergo various processes with maximum efficiency. The greatest challenge is to bring the internal injuries and bleeding after an explosion trauma under control as soon as possible. In addition, we examine the victim for possible poisoning and infections. In fact, terrorists have equipped their bombs not only with nails and screws, but also with the rat poison cyanide, as it so happened, for example, during the attack on a bus in Jerusalem in 2002. Some suicide bombers had Hepatitis B and HIV, as we detected. With regard to this, prophylaxis is therefore standard in the treatment of terrorists. Currently, we particularly treat victims of attacks committed with cars or knives; these attacks are sometimes perpetrated not only by Arab, but also by Jewish assassins.
Avi Rivkind will talk on the 30th of September on the topic "Why I also treat terrorists". His presentation will be followed by a panel discussion with several Swiss and German Media experts discussing the representation of Israel in the German-speaking Media. Location: Municipal House ICZ, Lavaterstrasse 33, 8002 Zurich, Switzerland. Doors open at 7pm CET.