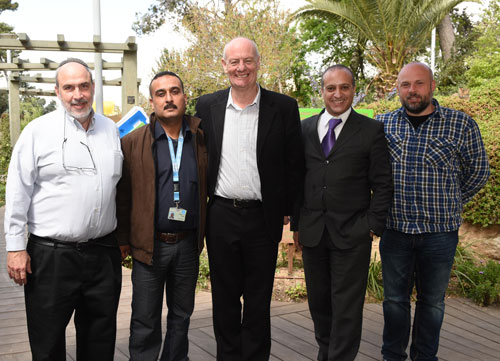 Last year, Hadassah Australia and World Vision Australia signed a cooperation agreement to raise funds for Project Rozana, an Australian-inspired initiative to train Palestinian health professionals at Hadassah Hospital before they return to build the health capacity of their communities.  It is also raising funds to support critically-ill Palestinian children in the hospital's Pediatric Intensive Care Unit, when funding from the Palestinian Authority runs out.
Having signed this landmark agreement, Rev Tim Costello, CEO of World Vision Australia, took the opportunity during his tour of the region to visit the hospital for a first-hand look at the world-renowned health care facility. Rev Costello and his group were joined by Tom Wilson, Australian Representative to the Palestinian Authority.
Like most visitors, he witnessed the truly remarkable yet everyday world that is Hadassah Hospital.  This brought into stark relief the reason why Hadassah was nominated for the Nobel Peace Prize in 2005.  It also shed light on Israel's multicultural society; an aspect of the Israeli reality which is too often shuttered behind prejudice and ignorance.
Almost immediately after he arrived, and before his chance encounter with Dr Mahmoud Shamaly in the Healing Garden, Rev Costello saw Orthodox men, some in full Haredi attire, move easily among Jewish and Arab women, some wearing scarves and other paraphernalia that spoke of their religious and cultural affiliation.  Each of them has a shared investment in successful health outcomes, which is more powerful than the differences that others see.
A case in point was the meeting with Dr Shamaly, who has been training at Hadassah for more than three years.  This dedicated medical professional was concerned at the growing number of patients in Gaza with cystic fibrosis and made it known that he needed help to treat the disease.  His call was answered by Professor Eitan Kerem, a world-renowned cystic fibrosis specialist and head of Hadassah's Division of Pediatrics.  Together they have set up the first CF clinic in Gaza, a remarkable facility that is quietly achieving for Gazan Palestinians what more public diplomacy has so far failed to do.  "When patients enter the gates of the hospital they are all equal…"
The visit began in the Neonatal Intensive Care Unit (NICU) where Dr Ofra Peleg explained how the premature baby ward operates.  One of the first things the group saw was a small, fragile 630g baby born at only 27 weeks.  "Dr Peleg sensed our distress but assured us "that the girl will be fine".
Hadassah is a Jerusalem icon, serving the community of Jerusalem, the surrounding region and beyond.  Everyone, from orthodox and secular Jews to Arab and Palestinian Muslims and Christians, are treated equally.   Dr. Peleg told Rev Costello, "When patients enter the gates of the hospital they are all equal, that is what we are responsible for."  There are hospitals in the West Bank where Palestinians can go, and some of the equipment is the equal of that at Hadassah.  However, Dr Peleg says that the level of care isn't as high and Hadassah is training some of their medical staff.  "It not only builds the health capacity of the Palestinian community but friendships as well".  It also breaks down the very idea of 'the other', an impenetrable wall that stops meaningful engagement which can lead to a better and more sustainable way of life.   Dr Peleg admits that it's a complex situation, but is thrilled that Hadassah is helping to chart a way forward.  In such a delicate framework of communication difficulties they speak the common language of humour.
Once we left the NICU, we headed to the Center for Children with Chronic Diseases (CCCD).
Before we arrived we were 'hijacked' by Hadassah's world-famous medical clowns.  One of them pointed at Rev Costello and said, "You're so tall, you're so funny looking!"
Hadassah Australia has adopted the medical clown program, which is literally changing young lives.  Hadassah was the first hospital in Israel to pioneer the program, which draws its talent from clowns who graduate from a four-year intensive university course. Every paediatrician – not to mention doctors, nurses and technicians – insist they have access to these clowns because in such a delicate framework of communication difficulties they speak the common language of humour. Professor Shaya Wexler, who heads CCCD, spoke about treating patients holistically.  He deals with their psychological and physiological needs, and even their educational needs.  Treating the family is also an important part of the Center's work.  He says the department's success is borne out of Hadassah's unshakeable belief in coexistence. "The situation is not necessarily getting better," he says. "We're making peace from the bottom up, simply by living together."  Care has to be culturally and religiously appropriate He says that being in a health institution in Israel, where politics and demography can overwhelm, one must be blind to ethnicity, religion, and even resources.  An added challenge is that care has to be culturally and religiously appropriate, from the surroundings, dietary provisions, and even language.  Medical translation is one of Hadassah's priority programs.  The staff are being trained not just for translating but also to act as ombudsmen to help families deal with problems.
"It's important not to judge but to be sensitive," he explains.  "Hadassah had to develop a different way of doing things, and language, as we keep hearing, is much more important here, where regional problems exist."  "By fully integrating Jews and Arabs among our staff we respect everyone's culture," he adds.  "This can build one's dignity and reinforce the idea of cooperation." Professor Wexler speaks highly of Project Rozana, and its role in building bridges through collaborations with doctors, nurses and other medical staff from Gaza and the West Bank.
The starting point on the road to positive health is a refusal to segregate.   He tells a common story about families who first arrive into the ward.  One of their first actions is to pull the curtains closed around the patient in the ward, and create their own wall.  "Kids aren't smart," he says, rolling his eyes.  "They don't know you're not supposed to talk to someone else.  They say 'he's not different from me', and they end up playing together. Slowly the curtains start opening. One mother has to take a shower, the other mother watches over the other. And this is where it starts, from the bottom up".
The final meeting is with Jorge Diener, head of Hadassah's special projects. Jorge insists Hadassah doesn't have a political goal but naturally brings peace through medicine. "Hadassah brings health to Israel, and peace to people," he says.  He goes on to explain that Hadassah is a community hospital that serves the people of Jerusalem and the greater area, with all the complexity of the population; a third are orthodox Jews, a third are Arabs, and the rest make up the balance. "Hadassah is a pioneer in bringing health to the Middle East and has been doing so for the last 100 years," Jorge says.  "We bring this know-how to our neighbours. Sometimes it is easier for us to bring the knowledge to Uruguay or to Australia than Gaza, which is an hour away.  But we will continue to step up to the challenge."
I left Tim Costello in the Healing Garden with Mahmoud Shamaly.  They clearly have much to talk about and much to share.  I have no doubt that Project Rozana will figure hugely in their discussion as it speaks to everyone in the language of peace and goodwill.