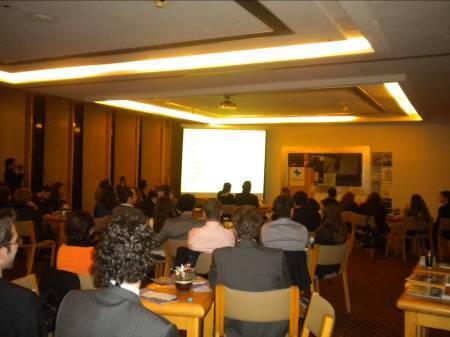 Over 60 young professionals gathered in early December for Young Hadassah's first-ever event in Mexico City: a business forum and cocktail reception hosted in partnership with Citibank.
Citibank became a corporate partner of Hadassah International in November 2010. Appealing to the young cosmopolitan audience, two speakers, Alberto Deleze and Juan Manuel Fernandez Samblancat, both of whom work for international investment companies, spoke about the current global business landscape. Deleze imparted his observations on the "Megatrends of the World Today," while Samblancat shared his views on "Social Responsibility."
The conference, held at Club de Industriales, a private business club, provided the opportunity for young professionals to network, learn, and brainstorm about gaining support among their peers for the Hadassah Medical Organization in Mexico. The gathering generated a stream of ideas and set the foundation for local Young Hadassah projects to come.
"It is important to find the right moment to begin a successful project," said Ethel Fainstein, Hadassah International's Director of Latin America. "I believe that there is great potential among this select young group. With great joy, I can say that today's events have paved the way for Young Hadassah in Mexico."
Young Hadassah will return to Mexico City in March to host an inaugural, two-day, two-night Latin American conference.
For more information, please contact info@yhadassah.org.